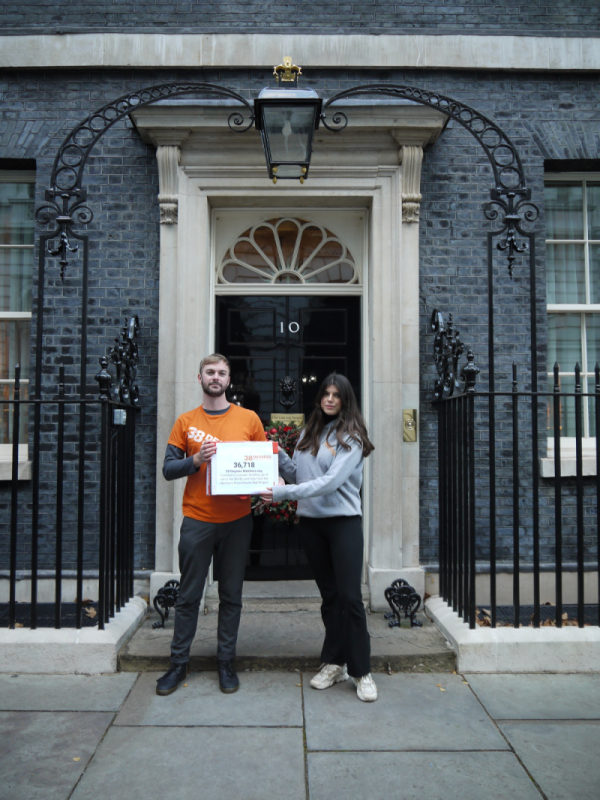 Dec 2nd, 2021
All aboard! Double rail petition hand-in
By Becca McCarthy
This morning, Myles, Kate and Faye from the 38 Degrees staff team delivered two huge petitions: one demanding a freeze on rail fares, the other urging the Government not to break its promises on levelling up rail in the North of England.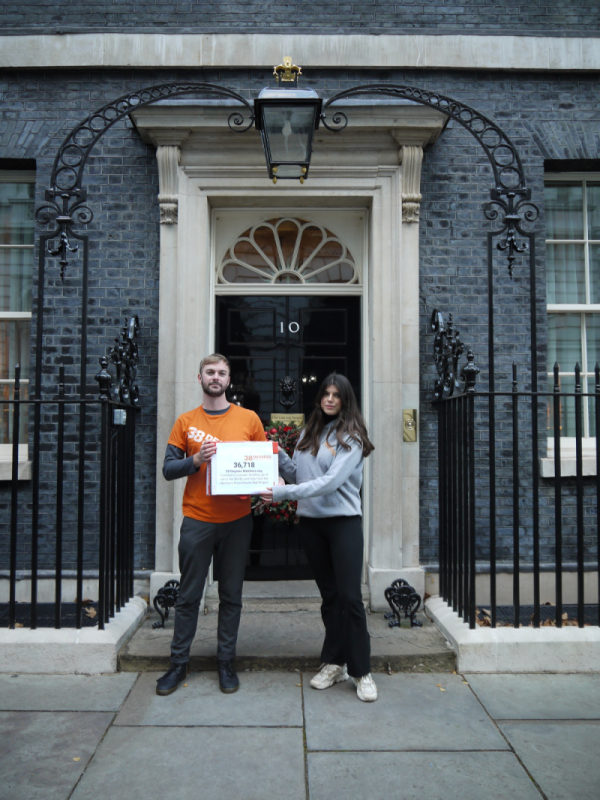 Levelling up promises
First, our trio stood on the steps of 10 Downing Street to hand in the signatures of 36,000 people – all calling on Boris Johnson to commit to a proper levelling up of rail in the North and to fully the Northern Powerhouse Rail project. 
Despite Boris Johnson having promised – multiple times – to transform rail travel in the region, the Integrated Rail Plan his Government released in November broke that promise, sparking shock and disappointment across the country. 38 Degrees gave tens of thousands of people the opportunity to tell the Prime Minister that the new plan is simply not good enough for the people of the North – who have, for decades, have had to settle for second best, lumbered with a dated, Victorian rail system deprived of proper investment.
Halt the price hike
For their next stop, Myles, Kate and Faye marched to the Department of Transport to deliver a whopping 115,000 signatures to Grant Shapps, the Transport Secretary, urging him to please freeze rail prices for 2022 and stop the potential 4.8% increase in its tracks. 
Together, we sent the Government a clear message: amid a cost of living crisis, the millions of people who depend on trains each day must not be forced to face yet another price hike. Plus, at a time when we need to be moving people out of fossil-fuelled cars and onto environmentally-friendly trains, we simply cannot afford to make train travel unaffordable.
We've piled huge pressure on the Government on trains – now, it's time to go full steam ahead and keep campaigning for a better transport system that benefits us all!