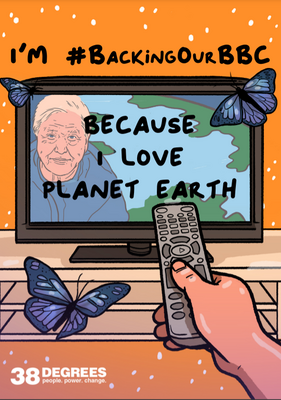 Feb 28th, 2022
Order a #BackingOurBBC poster
By Tom Kuehnel
The Government has stepped up its attack on our BBC by rushing out announcements that risk its future. Now it's time to step up our campaign to save it. If we can prove that we, the public, admire and value the Great British institution that is our BBC then, together, we can help protect it.
We can show the Government that they have misjudged the mood of the nation by running a huge poster campaign #BackingOurBBC and shining a spotlight on the reasons why we, the Great British public, value it. If everyone reading this pops a poster up in their window, we could line streets all over the UK and leave the Government in no doubt about where we stand. They've backed down on their BBC attack before, and we can make them do it again.
So will you join our people-powered fightback today by clicking on your favourite poster image below? We'll then send you your favourite A3 poster in the post. Clicking your favourite poster below will take you to a page where you'll need to enter a few details so we can get your poster in the post as soon as possible.
Or you can order a blank poster to write your own message about why you are #BackingOurBBC: