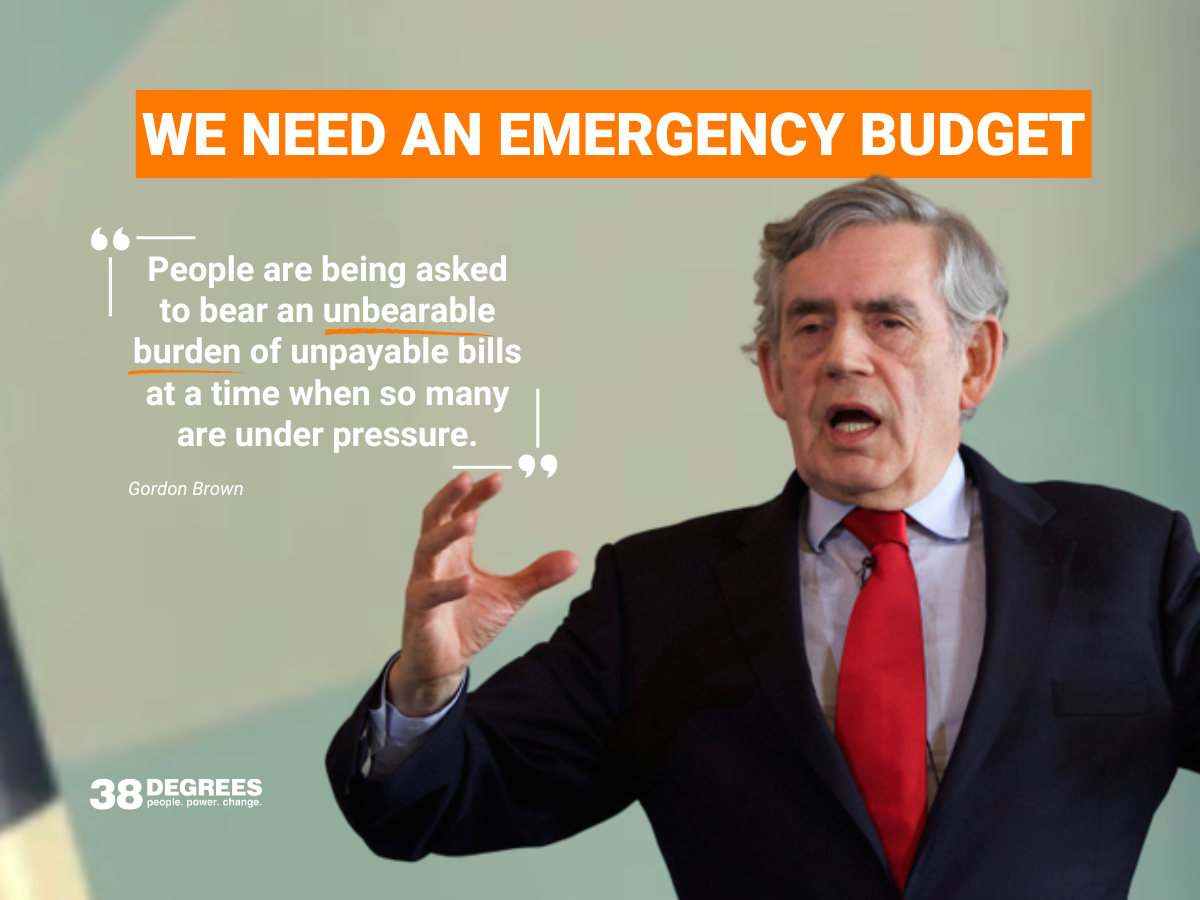 Aug 11th, 2022
74,000 supporters back Gordon Brown's call for an emergency budget
By Hannah Graham
38 Degrees supporters have joined forces with a former Prime Minister in demanding the Government take urgent action to tackle the energy bills crisis.
On Monday, Gordon Brown hit headlines with his calls for an emergency budget to boost Universal Credit and protect the most vulnerable households. With the average household energy bill predicted to top £4,000 in January, Mr Brown warned Sky News that, without action, people would be left in cold homes without food this winter.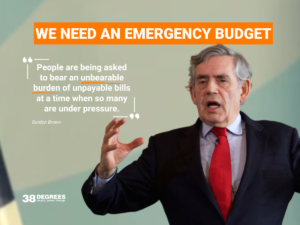 With Government ministers 'out of office' for the summer and leadership candidates busy fighting amongst themselves, the former PM's call struck a chord with 38 Degrees supporters. 
Within 24 hours of going live, our petition backing his demand for a poverty-busting emergency budget had been signed by 47,500 members of the public. 
By Thursday, 74,664 people and counting had added their names. 
Welcoming the support for his proposal, Mr Brown said: "People are being asked to bear an unbearable burden of unpayable bills at a time when so many are under pressure."
And as more and more of you added your names, our campaign gathered force. We made headlines in Sky News, The Big Issue, The Herald Scotland and more.
People are beginning to take notice, so what's next? 
We know that, with enough pressure, the Government might be forced to act. Ministers raised Universal Credit during the pandemic – providing a lifeline to millions – and if we keep pushing, they could do it again.
If we come together as a social movement with a huge petition demanding immediate action, we can push the new Prime Minister to protect vulnerable households before the next energy price hike hits. We've already gathered a fantastic amount of support – if we keep sharing our petition, we could hit 100,000 signatures or even more.