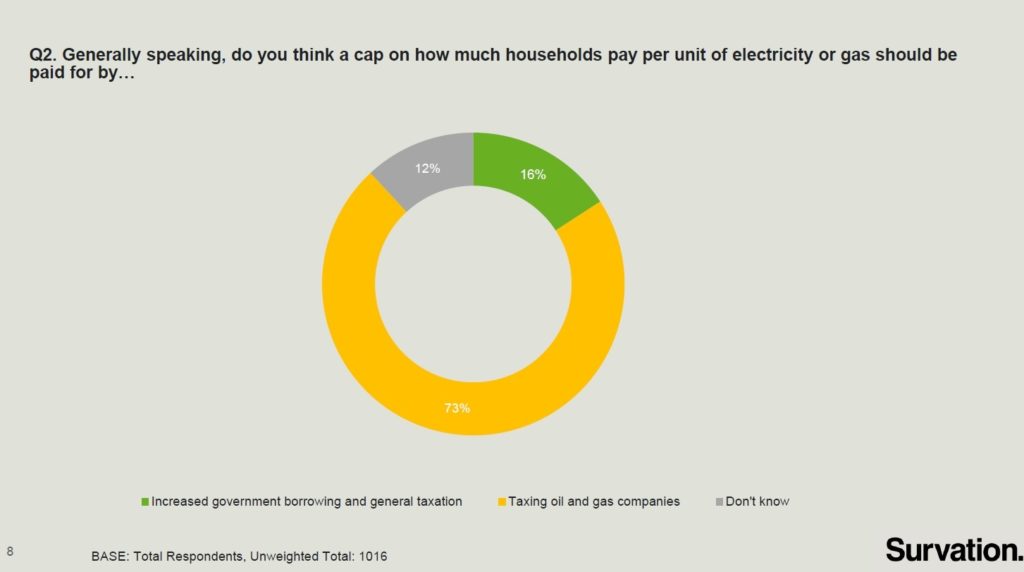 Sep 8th, 2022
The public view: A fairly funded solution to the energy crisis
By 38 Degrees team
"Crisis". "Catastrophe". "Emergency". "Potential humanitarian disaster". In recent weeks and months, these words have become common currency when we talk about soaring energy bills and the cost of living. 'Heat or eat' has been replaced with 'starve or freeze'. Shockingly, the idea of millions more people being plunged into fuel poverty whilst others can no longer afford to donate to food banks has been so widely reported, it no longer surprises us. Yet the situation we are facing, with energy bills and the cost of living crisis is not inevitable. And the British public have made abundantly clear their belief that the government must act – and act now – to end this impending crisis, catastrophe, emergency or disaster.
As we await today's announcement from the new PM on her plan to tackle soaring energy costs, the fact that government action of some form on energy bills is now finally on the way is to be welcomed – but for this to really make a difference,, it must be enough support, and support that is funded the right way. At heart of the solution to the energy crisis the public want is fairness: that energy giants raking in billions of profit are the ones to pay for the support that struggling families across the country so desperately need. This is clearly the view of the public, as new research we are publishing today shows.
Click here to view the full table of results from the polling.
As Liz Truss took office earlier this week, and rumours swirled about the approaches she was considering to tackling soaring energy bills, we commissioned respected pollsters Survation to carry out snap polling for us on this issue. Over 6-7 September, they surveyed 1016 people – and the results are clear:
Over 7 in 10 Brits want oil and gas giants to foot the bill to help families with their energy bills

. Offered the choice between a windfall tax and increased Government borrowing to fund the cap, 72% of the general public (and 76% of Conservative voters) chose the tax on energy giants' profits, while just 16% (and 13% of Conservative voters) supported upping Government borrowing.

When asked separately to rate how much they supported each of the three rumoured options to fund an energy cap (a windfall tax, increased borrowing or consumers repaying through higher future bills),

74% supported a windfall tax

, with just 37% and 25% backing the other options, respectively. Support was even higher amongst 2019 Conservative voters, with 84% saying they'd support a windfall tax – and only 5% actively opposing it.

Fewer than 2 in 10 (19%) believe freezing energy bills alone is enough to solve the cost of living crisis

, with 7 in 10 (including 63% of Conservative supporters) demanding more support for the most vulnerable.



Just 25% of people say they have confidence in the new PM to solve the energy crisis

, whilst only 26% said she was likely to keep promises made during her leadership bid
Today, our new Prime Minister has an opportunity to start as she wishes to go on: by heeding the views of voters, and using a windfall tax on excess profits – rather than a future hike in general taxation – to make sure no one faces the choice between freezing or starving this winter. Furthermore, his new poll sends a clear message: freezing bills alone isn't enough – more help must be offered, now, to ensure the most vulnerable families make it through this winter.
For the full cross tab tables from this poll, please click here.