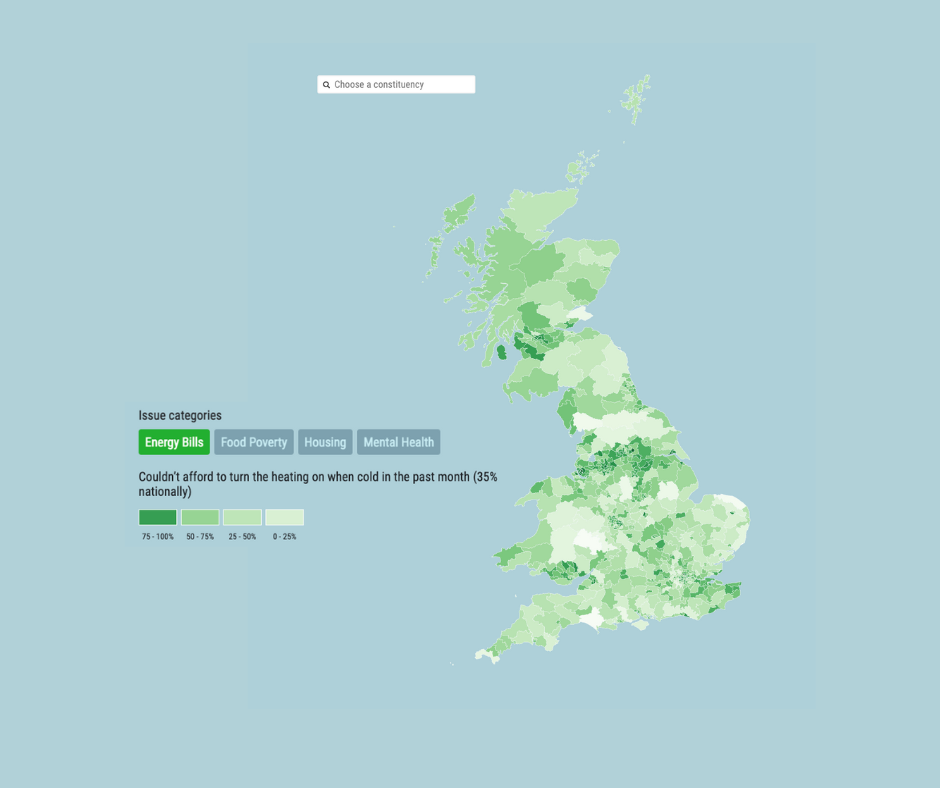 Mar 8th, 2023
The true cost of this crisis
By Matthew McGregor
The 'cost of living crisis' has dominated the news agenda – and indeed the political agenda for the last year. But undoubtedly, where the impact has been felt the most is in homes across the country. Millions of people are living under immense stress, as they battle to keep a roof over their heads, keep the lights on and keep food on the table, as costs soar at every turn. Now, their eyes are on the Government, hoping they take urgent steps to turn the tide on the needless suffering of so many in next week's Spring Budget.
That's why, to shine a light on the impact of the cost of living crisis on people across the UK – and the potential consequences for the Government if they fail to get a grip of this spiralling catastrophe – 38 Degrees commissioned Survation to undertake large scale polling, with results which can be broken down by constituency.
Millions of people are struggling to make ends meet, and huge numbers of people report not being able to pay their bills, or even their rent. Survation's polling research also shows that government failure to tackle the cost of living crisis has triggered a mental health crisis. These findings lay bare the human cost of soaring prices and stagnant wages – that millions of people are suffering needlessly.
The results of this research are broken down for every constituency in Britain, with figures for all constituencies available to view on our newly updated interactive map. It shows the shocking number of people living in cold homes, barely able to feed their families, as debts mount. Bringing the cost of living crisis to constituency level, these figures make stark reading for all of us.
Key findings:
More than 1 in 3 people (35%) say they haven't been able to afford to turn the heating on when they've felt cold at home
1 in 5 people (20%) have missed rent payments in the last six months, whilst almost 1 in 4 (24%) have missed a credit payment and almost 1 in 3 (32%) have missed a bill payment.
Parts of London and Birmingham show the highest rates of missed rent payments, with 42% of people in Islington North likely to have missed a payment in the last six months, and a shocking 54% in Birmingham Ladywood.
41% of people say their mental health has worsened as a result of the cost of living crisis.
The region whose mental health had suffered most was the North West of England, where 45% of people said it had been worsened by the crisis – but in Liverpool West Derby, one of the most deprived constituencies in the North West and the country as a whole, the figure stood at 63%.
Across the country 30% fear they may have to use a foodbank, a figure that rises to 51% in Birmingham Ladywood.
Next week, Rishi Sunak and Jeremy Hunt have a choice. They will decide who to put first. To choose whether or not to turn the tide on the cost of living crisis. To reverse the devastating consequences a slumping economy has had on families across the country, what they must use the Spring Budget to do is clear: Cancel the April 1 energy price hike and fix our broken energy system, keep children fed by expanding free school meals and make sure all of us can keep a roof over our heads.
To govern is to choose. Rishi Sunak and Jeremy Hunt now must choose whether or not to do the right thing by the millions of people suffering in the face of this cost of living crisis.
—
Full data
You can download a spreadsheet with the full constituency data here. For more information, please email Jade on jade.b@38degrees.org.uk.
Methodology
38 Degrees commissioned polling company Survation to undertake research on voting intention, the Government's perceived understanding of the cost of living crisis, and the impact of this crisis on people's lives.
Fieldwork took place between 10-16 February 2023. This survey was carried out with a sample size of 6,434 for the voting intention MRP model – 6,094 for other questions. Data were weighted by demographics and past vote to be representative of all adults in the UK aged 18+.
Survation then used multilevel regression and post-stratification (MRP) to predict constituency-by-constituency results based on demographic and other data. This respected statistical technique was used by Survation to correctly call more than 94% of seats in the 2019 General Election.