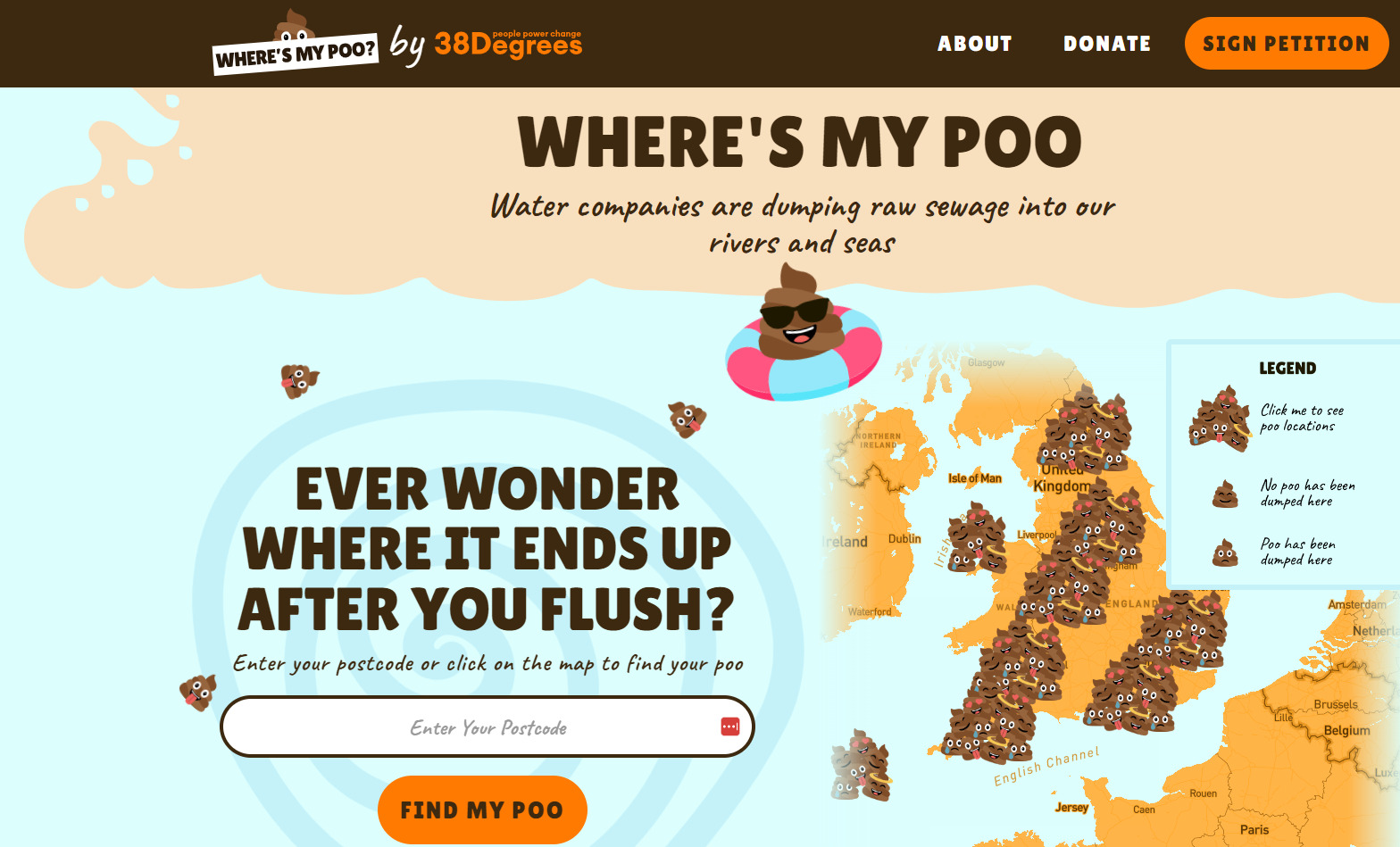 Sep 15th, 2023
New poll shows scale of sewage scandal in every UK constituency – and its political cost
By Hannah Graham
People across Britain are being sickened by sewage spills and watching the water quality in their local rivers, lakes and coastline worsen. 
New research for Survation for 38 Degrees reveals one in four Brits say they've witnessed or been affected by sewage in rivers or seas in the last year alone. Meanwhile, 35% of us say the quality of the water in our local area has worsened over the past year. And with water companies reportedly pushing to hike bills to solve the sewage crisis, the poll further shows 24% of people are already struggling to pay their water bill, while a further 49% fear they couldn't afford to pay it if it went up. 
Alongside the widespread impact of sewage spilling, the poll highlights the potential cost to the government of the failure to put a check on water companies. More than half (56%) of all Brits say the Government's handling of the sewage crisis will affect how they choose to vote at the next election – with 51% of those who voted Conservative in 2019 saying sewage will affect how they vote.
And constituency-by-constituency analysis reveals more about how spills are affecting different parts of the country. Survation used multilevel regression and post stratification – used by the respected polling company to correctly call 94.3% of seats in the 2019 general election – to calculate responses for every constituency in Britain from a national sample, revealing the areas country worst-hit by this sewage scandal.
The analysis showed:

There are 31 Conservative seats where 60% or more voters say sewage will affect their vote choice: including in the Prime Minister's constituency of Richmond (Yorks) (60%) and Chancellor Jeremy Hunt's South West Surrey seat (60%).
Sewage could be a key issue in election battleground "Blue Wall" constituencies, such as South Cambridgeshire where 60% say sewage will affect their votes and 42% say water quality has worsened, or Truro and Falmouth, where 61% say sewage will affect their vote and 36% say water quality has got worse.
The top 3 constituencies where locals say water quality is getting worse are seaside constituencies Eastbourne (51%), Hastings and Rye (51%), and Bognor Regis & Littlehampton (50%).
Results are in line with events locally: Eastbourne's water quality was downgraded from "Good" in 2021 to "Sufficient" (the lowest grade) in 2022 by DEFRA. Earlier this year there were demonstrations at St Leonards against increasing amounts of sewage dumped in the water in the Hastings and Rye constituency, while Arun council currently rates the water quality at Bognor Regis (Aldwick) as "Poor".
There are seven UK constituencies where more than 50% of people have witnessed or been affected by sewage spilling – with people in densely populated urban areas generally more likely to be impacted by sewage than those in the countryside.
Siobhan Harley, Campaigns Director at 38 Degrees, said: "This polling makes the political cost of the fouling of Britain's rivers and seas clear.
"The sewage scandal is a failure by water companies who've neglected vital upgrades in favour of shareholder dividends and CEO bonuses, but, left untreated, it's also a growing political crisis for this government.
"The Government must start paying proper attention to the stinking scandal that's unfolding right under their – and our – noses. Ministers must launch a full, independent inquiry into the destruction of our water quality, and act quickly to improve it. If they don't, they shouldn't underestimate the impact at the polls.
"Meanwhile, it's long past time for water companies to start cleaning up their act and foot the bill for the critical updates our waterways need."
The top ten constituencies with the highest rates of people sewage spotting according to this research were:
| | |
| --- | --- |
| Brighton, Pavillion | 58% |
| Hackney North and Stoke Newington | 52% |
| Lewisham, Deptford | 51% |
| Birmingham, Ladywood | 50% |
| Camberwell and Peckham | 50% |
| Greenwich and Woolwich | 50% |
| Vauxhall | 50% |
| Birmingham, Hodge Hill | 48% |
| Bristol West | 48% |
| Canterbury | 48% |
Full tables for UK constituencies available on request – For more information or to arrange an interview, please contact Hannah Graham, hannah.g@38degrees.org.uk, 07704 547398
38 Degrees is tracking the scale of the sewage crisis as thousands of us call on the Government and water companies to do better. Find out more at wheresmypoo.com 
Methodology
Fieldwork carried out between 26th May and 26th June 2023. Population sampled: residents aged 18+ living in Britain. Sample size: 6,086 respondents.
Using a statistical technique called Multilevel regression and poststratification (MRP) Survation are able to use the large collected dataset from the polling to ​​produce estimates of opinion and attitudes for small defined geographic areas – in this case, Westminster constituencies. By combining polling data with ONS and census data on demographic characteristics they can accurately predict responses in individual constituencies. The technique was used by Survation to correctly call 94.3% of seat results at the 2019 General Election. More information at https://www.survation.com/what-is-mrp/