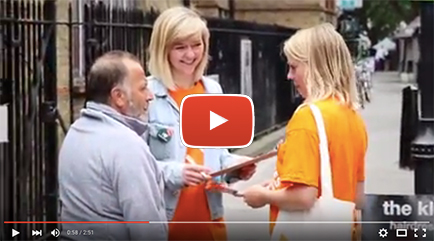 Aug 19th, 2015
TTIP day of action: top tips
By Amy Lockwood
This morning Rachel, Rich, Sarah and Alpha from the 38 Degrees office team took to the streets in search of tips for starting conversations about TTIP with strangers. It might sound daunting – but doing it as part of a team meant we could support each other as we spread the word about the dangerous trade deal.
You can see a short video with how Rachel and the team got on here:
Momentum is building for Saturday – over 7,000 of us are taking to the streets! From Lands' End to islands north of John o'Groats, and more than 400 locations in between: there's going to be thousands of conversations exposing the dangerous trade deal that politicians and corporate lobbyists want to keep locked away in a bunker.
So wherever you are – you can be safe in the knowledge that people power really can expose and stop this nasty trade deal, one conversation at a time.
You don't need much for Saturday – just your petition sheet and a smile. You definitely don't need to be an expert to spark a conversation. Below are some answers to questions other 38 Degrees members have had about Saturday's TTIP day of action that you might find useful.
—
Everything you need to know about TTIP day of action:
On Saturday:
What do I need to know about TTIP?
The most important thing to remember is that you don't have to be an expert. All the key facts you might need are on the leaflets you are handing out – so it's more important to just have a conversation with passers-by. Some good opening could be as simple as:
"Hi, have you heard about TTIP?"
"Hi, I'm collecting signatures to stop a dangerous deal that threatens our democracy and our NHS. Will you join me?"
"Hi, can you help save our NHS and public services from being sold to big American companies?"
If anyone wants more information, just direct them to the 38 Degrees website – the office team have added some facts and figures about the TTIP which can be found on the TTIP home page:
http://www.38degrees.org.uk/TTIP
What do I need with me on the day?
All you need to help collect signatures is copies of the petition sheet, and a clipboard/piece of cardboard to lean on.
There's also leaflets and posters to print out if you like – these can be attached to the back of clipboards to show passers-by you're there to talk about TTIP. If you don't have a printer, someone else going to your event will have probably have spare petition sheets to share with you.
You can download extra materials here: https://secure.38degrees.org.uk/ttip-materials
Remember the most important thing to have with you is a smile! People are more likely to stop if you're upbeat, polite and don't insist they stop.
Who will be at my local event? What if plans change?
You can find out all the details about the event you've signed up for on the TTIP day of action hub and in the discussion on that page. But don't worry if plans change – you can chat to other members to make suggestions and find out the latest plans.
What do I do if someone signs the petition without an email address?
Please encourage people signing the petition to add their email address, so they can be sent an update about the campaign. But don't worry if they don't, they can still sign the petition. As a minimum, everyone should be encouraged to give a postcode in order to prove they live in the UK or the EU.
What if no one else turns up on August 22nd?
Don't worry if no one else turns up! You can get plenty done on your own – in recent days of action, many members said that they had a great time and collected loads of signatures on their own.
The more people you can talk to on the day, the better – so give it your best shot and have fun when you're out there. Remember you're not alone – there's lots of people in the UK doing the exact same thing!
What if I have a question on the day?
All of these materials, and more including a help page, can be found on the 38 Degrees TTIP home page:
http://www.38degrees.org.uk/TTIP
The 38 Degrees office will be also be available to answer any last-minute questions from 8am onwards on Saturday:
Call: 0207 970 6023
Tweet: @38_degrees
Email: emailtheteam@38degrees.org.uk
You can see more answers to frequently asked questions here:
https://home.38degrees.org.uk/ttip-day-action-help-page/
After your event
What do I do with the petition sheets once we've collected signatures?
You can send in the filled out petition sheets you collect on the day to the office team – we'll make sure all the signatures get uploaded! There'll be an envelope in the pack with our address already on it, so you'll just need to put a stamp on the envelope and put it in the post.
Remember that completed petition sheets contain some personal information so you need to take care with them. Don't leave them lying around, and don't let anyone use the contact details for any purpose other than for adding them to the petition.
What happens next?
When you've finished collecting signatures and having conversations in your area, don't forget to take a moment to celebrate. Events like this don't happen every day, and you might want to sit down and have a cup of tea together, to swap stories about how you got on.
Where do I send pictures and how can I tell the press what we're doing?
If you're on social media, please make sure you tweet using #stopTTIP and @38_Degrees or share your pictures of the day on Facebook.
You can also keep other 38 Degrees members up to date with what you're doing by sending pictures to emailtheteam@38degrees.org.uk
A selection of the best pictures will be sent out to all 38 Degrees members.
If you want to send a press release to your local paper along with pictures of the event, you can find a template at the top of this page: