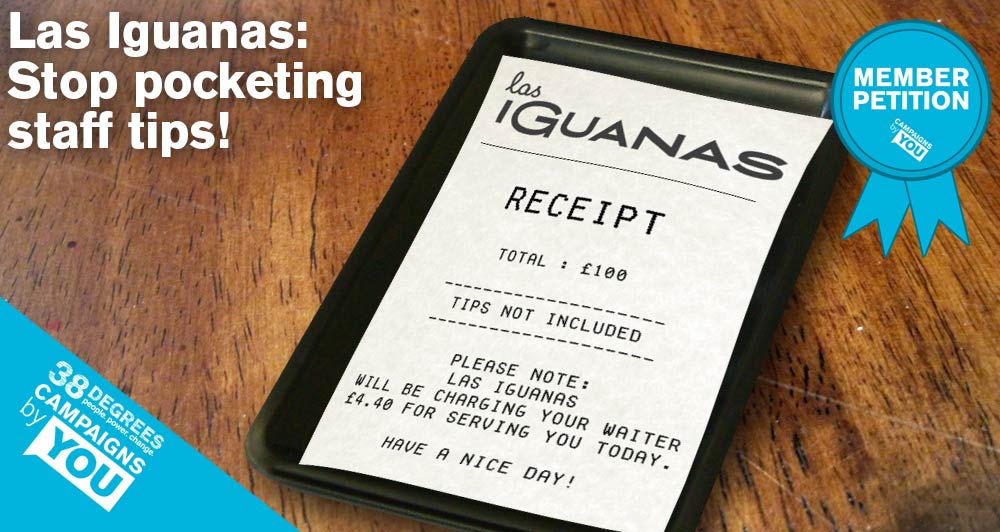 Sep 16th, 2015
Las Iguanas: Staff Survey
By Robin Priestley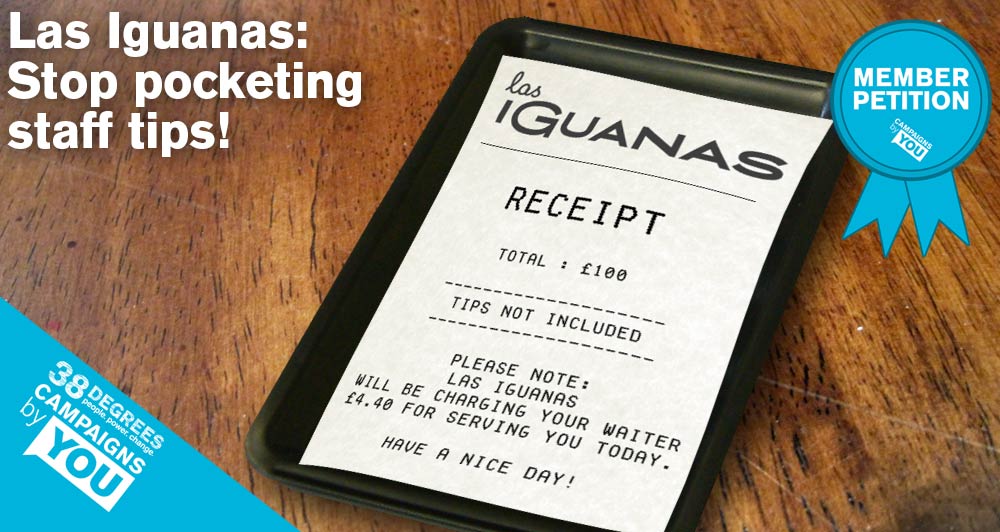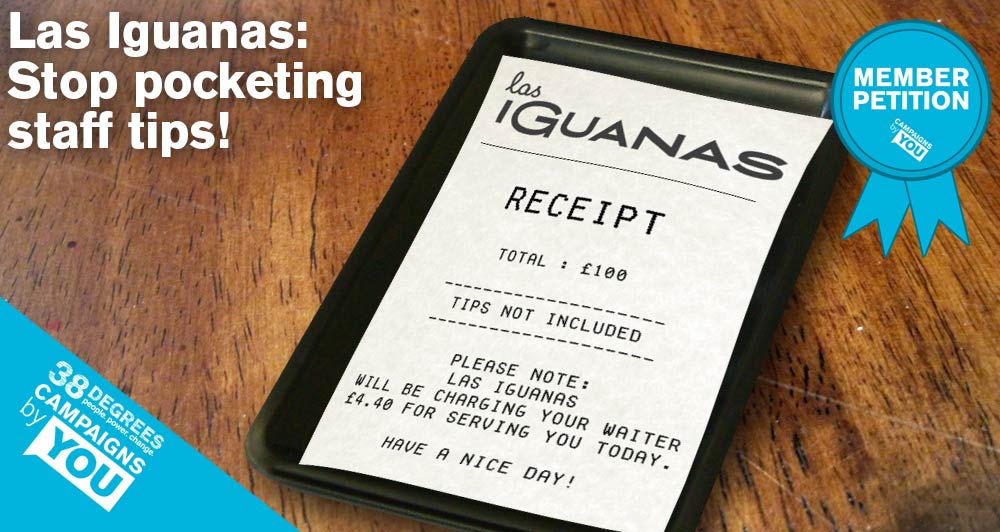 Restaurant chain Las Iguanas have been caught out in a dodgy pay scam. They've been exposed forcing their staff to hand over money at the end of every shift, no matter how much in tips they've made, sometimes even forcing their staff to "pay to work."
The company charge their staff 3% (4.4% in London) of their sales for the night. So a waiter who sells £1000 of food in a night would have to pay at least £30 to the company and hope they had made enough in tips to cover it.
Already over 80,000 people have signed a petition calling on the company to drop the unfair policy.
Sam, the petition starter says:
I've eaten at Las Iguanas in Brighton countless times and it's disgusted me to know that money I left to the waiters and waitresses has been taken by the company.
Initially the company claimed that the policy was very popular with staff, but hundreds of current and ex-staff members have signed the petition.  38 Degrees sent the staff members a survey to ask them about their experiences of the policy.  Here are the results:
Las Iguanas staff survey results:
Do you currently work at Las Iguanas, or have you now left?
Do (or did) you generally receive enough in tops to cover the 3% fee on tables:
Do (or did) the management in your restaurant ever ask you to pay their 3% fee on a table that didn't tip enough to cover it?
Has the 3% charge ever wiped out your entire tips for a shift?
If the 3% charge cost more than the tips you made, did you ever have to make up the shortfall from your own pocket?
Did you ever have to pay out of your own pocket for a table who hadn't paid the bill?
Quotes from staff members about the policy:
" I witnessed waiting staff being made to give huge sums of cash to the restaurant managers, the hated 3%. I saw lots of staff leave because of this. I saw staff in tears, they had lost all their days tips and sometimes had to make up the shortfall with money from their own pocket."
Chris
"I worked at Las Iguanas for over 2 years as a student whilst studying for my university degree and left the company in May 2015. The 3% policy is ridiculous. At least 3 times a week you'd be leaving the restaurant without a penny of tips you earned."
Nicole
"Just last week I had to give £20 out of my own pocket as my tips didn't cover the 3% policy." 
Anonymous
"It used to make me feel anxious particularly around christmas time when i served large parties. Those parties might not tip at all or may not tip even 3% meaning that i would always be out of pocket, on top of this, the waiting staff would be expected to pay the bar staff as well who didn't recieve many tips at all."
Abi
"It was incredibly frustrating to work a long, exhausting shift and then have the management demand that you give THEM money. On more than one occasion I had not made enough in tips to cover the 3% and they demanded that I pay out of my own pocket. The final time I refused to give them a penny of my own cash, which I think slightly threw the manager, so he "kindly" (his word not mine) only took all of my tips for the evening."
Laura
"Did not go towards tipping out the bar, as we did this AFTER paying out the 3% of our gross tips. One of my colleagues was also made to pay for a customer walkout on a night where the restaurant was so chronically understaffed that there was nothing he could do to stop them. They make enough money out of customers, but to make cash out of their staff as well is pretty poor"
Chris