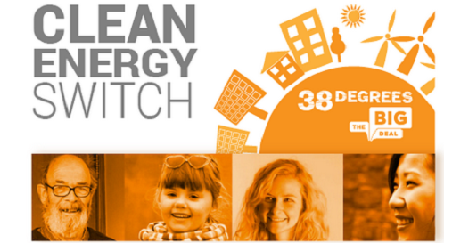 Sep 18th, 2015
Clean Energy Switch: we have a deal!
By bex
This is exciting: people power is taking on dirty energy.
More than 104,000 of us have said we're interested in switching to better, cleaner energy. By coming together in our thousands we've been able to strike a people-powered deal with a clean energy company: if you like it, you can switch today.
Here's the low-down on what the people-powered deal looks like – from our expert switching partners at The Big Deal:
The winner is… Good Energy
And here's the tariff they're offering to 38 Degrees members:
It's 100% clean electricity – all Good Energy's electricity comes from renewable sources.
It's a one-year deal that costs the average home £947 per year – that's up to £232 cheaper than a standard variable tariff from the Big Six. Click through the link below to see exactly how much you'll pay.
It comes with award-winning customer service – Good Energy regularly top the table for the Which? Customer Satisfaction Survey.
It's energy made from Cornish sunshine, Scottish wind and, um, Welsh rain (seriously!)
This deal is only open until 28th September. So please don't leave it too long to get involved!
There will be cheaper dirty energy deals on the market – but as this was negotiated as a people-powered deal, it's both clean energy and at a price that beats the standard offers from the Big 6 by over £200.
Now there's an exciting deal on the table, can you take the next step and join the big people-powered clean energy switch?
Here's how it'll work:
Once you're ready to be a part of the switch it will only take about 5 minutes to sign up. All you need to have to hand is a few personal details. Here are the four steps to follow:
1. Enter your email address and postcode into the switch website: https://secure.38degrees.org.uk/clean-energy-switch-now
2. Enter some basic details about your current energy supplier, so they can calculate how much you'll be spending with Good Energy (but it's ok if you don't know all your details)
3. See how much you'll save and decide whether or not you want to switch
4. If you decide to switch, please enter your bank details into the secure website and the team at the Big Deal will take care of the rest for you. Simple.
By joining this switch you'll be making 38 Degrees history. We've come together in our thousands to stand up for our planet, and call out big companies looking to profit from its destruction: across the UK we're standing up to dirty companies who want to frack in our countryside.
But now, we're using our consumer power to beat them too. Changing where we get our gas and electricity on our own can feel like a tough move. But by switching together we're getting a better deal. And we're sending a strong message to dirty energy companies and the government – we're sick of being ripped off, misled, and treated badly.
Thousands of 38 Degrees members have signed up to be a part of the clean energy switch. Here's why Hannah from Birmingham is involved: "The more of us that can go on to using green, ethical power companies, the better. We need to save the environment and the world from dangerous climate change and also find renewable energy sources before we run out of fossil fuels."
Let's get going!
PS: Switching energy companies can feel like a big thing to do. And you might have a few questions you want answered before you're ready to join this people-powered switch. We've included answers to most of the commonly asked questions here
PPS: A few points to note…
This deal is available for dual fuel, economy 7 and electricity-only customers, and isn't available for prepayment or gas-only customers.
Good Energy don't currently offer the Warm Home Discount or the Green Deal.
This offer is for a fixed tariff rate (until 31st October 2016), on Direct Debit, with online servicing.
Average savings are based on OFGEM medium levels of usage – 12500 kWh of Gas and 3100 kWh of electricity. The exact amount you pay will depend on how much energy you personally use and where you live in the country. The average Big Six standard variable tariff on direct debit at medium usage is £1095 per year and for receipt of bill £1179 per year.
38 Degrees is partnering with The Big Deal on this campaign. The Big Deal is a for-profit business with expertise in collective energy switching and a track record of campaigning in this area. They will take a £12.50 share of the commission generated by each switch. To read more about the Big Deal and their relationship with 38 Degrees, please click here;