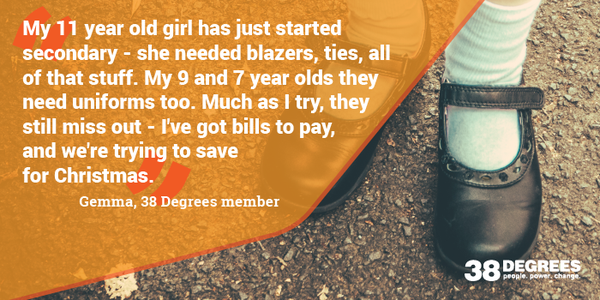 Oct 21st, 2015
Tax Credits: Conservative MPs are speaking out against these cuts
By Megan Bentall
Conservative MPs are starting to speak out against planned cuts to tax credits. Here's what MPs have been saying so far. Click the MP's name to see the source of the quote:
Boris Johnson, Uxbridge and South Ruislip:
"Everyone is concerned about something that bears down on the working poor. I saw the pain and anguish of that woman on Question Time the other night and understand that completely."
Stephen McPartland, Stevenage:
"I stood up for those on low pay and voted against Government changes to tax credits. Unfortunately, the simple fact is that for those families on very low incomes, such as a teaching assistant, then the changes today will hurt them not help them. They cannot increase the hours they work and they are subject to a 1% pay cap, so some families would be hit a lot harder than others. I stood up for them, because they get up and go to work for about £11,000 a year instead of living on welfare. These families are trying to work and should be rewarded by a welfare system that is fair and helps them move forward in life."
Steve Baker, Wycombe:
"Lots of us don't like the tax credit changes. Colleagues are well aware that some families will miss out. Lots of us are very concerned about it."
Guto Bebb, Aberconwy:
"The changes to tax credits have been somewhat under-scrutinised. The changes are both eye-wateringly painful to those affected, but also reverse a key policy platform of the last five years, namely making work pay."
Lucy Allan, Telford:
"During the transition period there are working families in Telford who will struggle. I am calling for a discretionary hardship fund to cover this period, for those families on the lowest incomes currently receiving Working Tax Credit."
Andrew Percy, Brigg and Goole:
"We need to be very careful when making changes to the tax credits of those already in the system. Many of these people are doing exactly what the government has asked them to do: get up in the morning and go to work. Change is needed, but in the process we mustn't end up harming those who are trying their best and working hard."
Johnny Mercer, Plymouth, Moor View:
"I must urge caution with these changes to tax credits. It would be remiss of me not to recount the extraordinary levels of feeling in Plymouth. This bright, vibrant, exciting and predominantly blue collar city has serious objections to these tax credit reforms, and it is my duty to represent them."
"I would urge the chancellor for something – anything – that might mitigate the harshest effects of this policy on our most vulnerable."
"Our duty is to shout for our most vulnerable."
Zac Goldsmith, Richmond Park:
"I am pressing Government to phase them so the lowest paid are protected – and to make sure any losses are absorbed by higher wages."
David Davis, Haltemprice and Howden:
"The Government needs to look at this again. For three million families, losing £1,000 doesn't mean cancelling your holiday, it means an empty pantry. I hope this doesn't turn out to be our Poll Tax."
Edward Leigh, Gainsborough:
"In the coming weeks as we consider the impact of the reform and in terms of compassion, it might be worth looking at tweaking the child tax credit—or the marriage allowance, which is very low—to try to soften the blow."
Heidi Allen, South Cambridgeshire:
"Conservatives pride themselves on living within their means, of cutting their cloth. But what if there is no cloth left to cut? How many of us really know what it feels like? How many have walked in those shoes?"
"I worry that our single-minded determination to reach a budget surplus is betraying who we are."
"To pull ourselves out of debt we should not forcing those working families into it."
"For many, everyday living is hand-to-mouth. Madam deputy Speaker, I suspect you and I could weather such a transition, period we could pull our belts in, but many of the families affected by these proposed changes do not have this luxury. Choosing whether to eat or heat is not a luxury. And that is the reality I am talking about."
Peter Aldous, Waveney:
"They need to think carefully about how they implement the policy to ensure that working families on low wages are not hit hard and unfairly.
"I urge them to address these worries before the changes to working tax credits come into effect next April"
Jeremy Lefroy, Stafford:
"On timing, the measures will come in at different times. It is vital that there should their timing should be synchronised. It is not there at the moment and I therefore ask that the timing of the introduction of the various changes to tax credits be looked at. I fully agree that we need reductions in the tax credit bills, but it is the timing that will bring great problems to many families."
"On predictability, families want to know what their income is going to be. They want a reasonable measure of forewarning, so they can talk and negotiate with their employers, and plan their future. If their income is going to be reduced, they need time to do that."