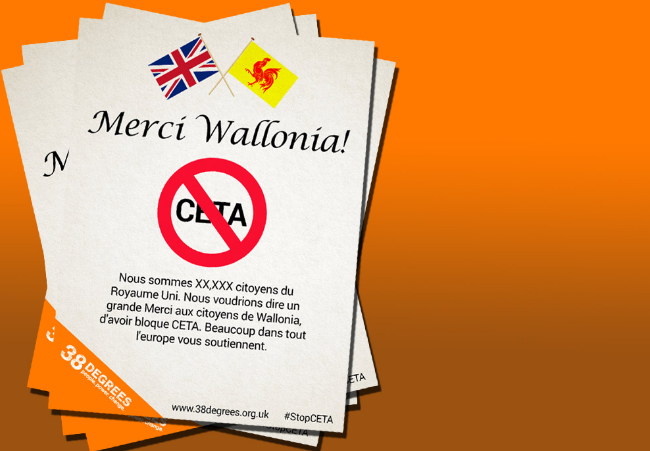 Oct 25th, 2016
Wallonia in Belgium blocks CETA
By bex
The dodgy trade deal known as CETA has been blocked! The deal was due to be signed this Thursday. But yesterday, the parliament of Wallonia, part of Belgium, refused to sign. Instead, they sided with millions of us across Europe – a huge, people-powered roadblock.
It's a plucky move to stand up for democracy in the face of corporate and EU Goliaths. The Walloons are blocking CETA because the deal could allow banned chemicals into our food and let big business sue our government in secret courts. Here in the UK, the worst bits of CETA would still apply for 20 years after we leave the EU.
The Walloons are the only parliament listening to their people on CETA. And they're under HUGE pressure to crack. So let's send them a big people-powered message of support, showing them they're not alone against CETA. It will help give them the strength to hold firm as pressure is piled on them to sign this dodgy deal.
Please can you sign the thank you letter to Wallonia? Click here to add your name with one click.
Here's what the thank you message says (it will be translated into French):
We are UK citizens. We want to say a big thank you to the citizens of Wallonia, for having blocked CETA – the dangerous Canada-EU trade deal. Millions of people all across Europe support what you're doing.
If we reach 100,000 signatures by tomorrow, we'll deliver the message straight to the Embassy, and buy thank you messages in local Walloon newspapers. Click the button below to add your name now:
CETA contains all the worst bits of its copycat cousin, the TTIP trade deal. The deal would undermine our environmental standards, our food standards, and local identities – even the 'protected' Cornish pasty is not safe from CETA! The deal would allow Canadian corporations to make our famous dishes, with banned ingredients, and sell them as 'locally produced' goods.
Here's what Belgium's Walloon regional president had to say about blocking the deal:
'We are not against a treaty with Canada. But we won't have one that jeopardizes social and environmental standards and the protection of public services'.
38 Degrees members voted in our thousands to say that after Brexit, Britain should negotiate trade deals that put people, not big business, first. CETA would lock the UK into one of the very worst kind of trade deals. So we owe the Walloons a thank you!