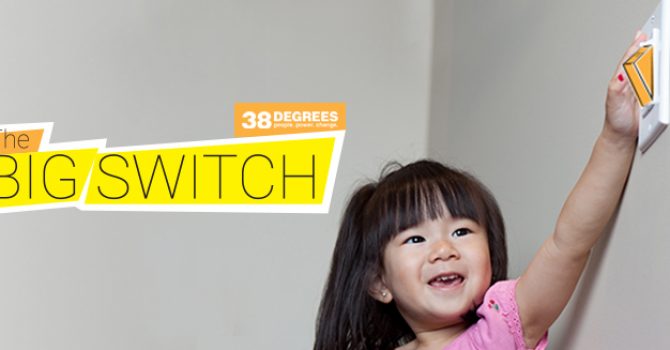 Feb 21st, 2017
The Big Deal on Energy – See How Much You Could Save
By Nicole G
Energy bosses are laughing all the way to the bank. The profit they cream off your bills pays for multi-million-pound salaries, pensions and parties. It's scandalous – and in recent weeks three of the biggest energy companies have announced plans to hike up our bills even more.
But for the next 7 days, you can get one over on them.
38 Degrees members have come together and negotiated a cheaper energy deal that could save you almost £300 a year. It's with a small, reliable energy company renowned for their customer service – and they don't dodge tax.
Will you be one of the first to see the deal? Just click the button below, and fill out a few quick details to see how much you could save.
This deal makes saving money – and switching away from the big energy companies – quick and easy. Here are the facts about the switch:
This deal could save you up to £288 a year
It's with Octopus Energy, a small company with a great customer service record. And they're the largest investor in solar energy farms in the UK.
There's also a clean energy deal which could save you £261. It's also with Octopus, and the electricity is from 100% renewable sources.
Every time one of us switches, 38 Degrees gets £18.75 to put straight back into the campaigns we care about.
Here's what the biggest, most powerful gas and electricity companies spend your money on:
A £1.1m a year salary for the boss of Eon.
A £10,000 trip to Alton Towers and a £20,000 party for British Gas staff.
A £6.1m pension pot for the boss of SSE.
Taking our money away from the big energy companies, and giving it to smaller firms instead, will hit them where it hurts the most: their profits. In the past year 38 Degrees members have switched £42 million away from big energy. If one of us did it alone, they probably wouldn't notice, but thousands of us switching all at once will send a powerful message.
PS: If you would like any more information about switching with 38 Degrees, check out the help page here:
https://home.38degrees.org.uk/help-page-big-switch-2017/
And you can read about past switches at 38 Degrees here:
https://home.38degrees.org.uk/2016/11/14/everything-you-need-to-know-switch/