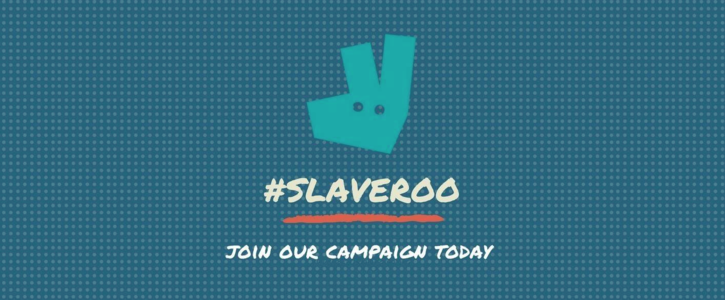 May 15th, 2017
Deliveroo in Edinburgh
By Rachel Whalley
We all want a fair deal at work, but some people in Edinburgh are being taken for a ride. Deliveroo, a company that delivers takeaway food, is using a loophole to dodge paying their staff for holidays or sick pay. We can help stop this.
Deliveroo claims people who work for them are "self-employed", meaning they don't get key rights. But, here in Edinburgh, a group of Deliveroo riders have got together to complain about their contracts. The Deliveroo riders are asking for the same rights as everyone else. And they're asking people in Edinburgh to sign a petition in support.
Deliveroo bosses will be watching this petition closely. Bad publicity is bad for their business. So if they see thousands of customers and potential customers lending their support to Deliveroo employees, they'll know they can't ignore us.
Deliveroo needs customers. And like any other business, that means that have to take care of their reputation. So as Deliveroo bosses weigh up how they respond to their employees, they'll be concerned about how all this looks from the outside. Let's leave them in no doubt: right now, it looks bad.
People power has beaten Deliveroo before, when their staff managed to make them back down on plans to scrap guaranteed hourly pay. And together, we've won campaigns like this before – last year, we forced restaurant chain Las Iguanas to stop pocketing the tips of hard-working waiters.
If you believe that Deliveroo should treat their staff properly – please add your name now: