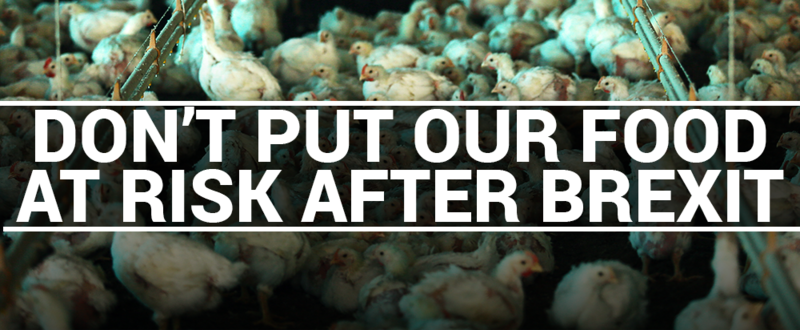 Oct 18th, 2017
Food standards, trade, & Brexit
By Becca McCarthy
Chlorine-washed chicken and beef fed with hormones could be heading to our fridges. As you read this, the government is working out their plans for trade deals after Brexit, and one thing on the menu is lower food safety standards. There is a serious risk that the government could be pressured into lowering food standards in order to get a deal with countries like the USA.
Right now a powerful committee of MPs are looking at how trade deals could impact our food safety after Brexit, but the deadline to feed in is this week. Experts, lobbyists and politicians are having their say. But what's missing is our voice.
If we can build a huge petition, we can make sure trade deals don't have a negative impact on the quality, safety and price of our weekly shop. We'll hand the petition straight to this group of MPs and make sure they can't ignore our voices.
Will you add your name to the petition to make sure chemicals currently banned in Britain don't make their way onto our plates? It'll be handed in on Friday, so we don't have much time:
Since the UK voted to leave the EU, thousands of 38 Degrees members have come together to decide what new trade deals should look like. Whether you voted leave or remain, 38 Degrees-ers want to make sure Brexit works for all of us. We all agree on protecting our consumer rights, making sure our food is good quality and the price of our weekly shop doesn't go up.
Trade deals can seem a bit abstract, but there isn't anything as real as the food you eat or your weekly shopping bill. Government committees like this one are used to hearing from experts and lobbyists, so imagine how they'll feel when the signatures of tens of thousands of ordinary people land on their desk. If we can build a huge petition, it'll drown out big business and their lobbyists.