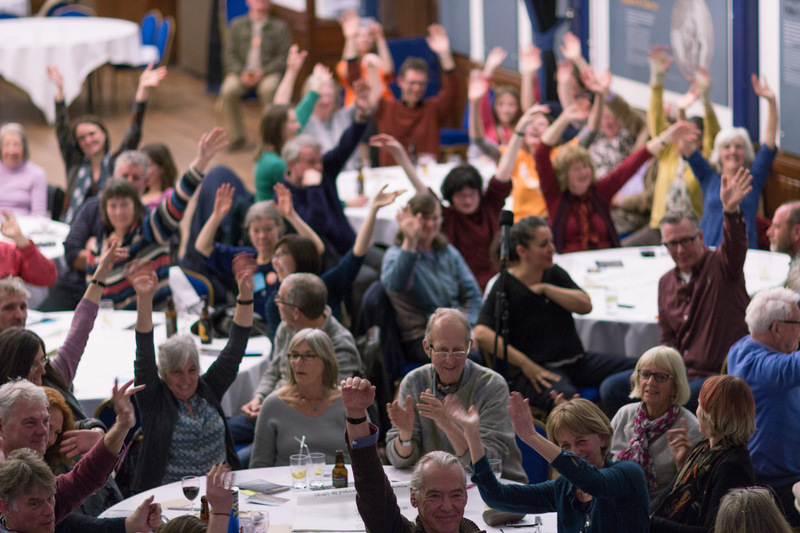 Feb 20th, 2018
Brexit – your thoughts
By Becca McCarthy
The government's bunkering down on Brexit. There's headline after headline about fights and secret meetings. [1] They're trying to push through plans that lock the public out of decisions. [2] That's no way to make Brexit work for everyone.
Something's got to change, and fast. The risks of secret decisions – or no decisions at all – are too great. The UK could agree bad trade deals that threaten our food standards and healthcare, or make weak environment laws, in a rush, that put nature and animals at risk.
Just a handful of MPs can swing votes in parliament. And that's where 38 Degrees-ers come in. When hundreds of thousands of us get behind an idea, and convince just a few MPs to change their minds, the government bows to the pressure.
If you think Brexit is too important to leave to politicians, will you take three minutes to take a survey on what campaigns 38 Degrees should get behind next? The more of us who help decide what to campaign on, the more we'll be able to influence the big decisions on Brexit.
38 Degrees-ers are people who want politics to work a bit differently. We think that democracy works best when as many people as possible are involved. Not when the government's doing all it can to keep things under wraps.
38 Degrees-ers know that we can win when we all pool our ideas to come up with a plan. Since the Brexit process began, here's a taster of what we've changed:
We forced Theresa May to drop her plan to give herself the power to rewrite UK laws behind closed doors after Brexit. We signed petitions, visited our MPs, gave evidence to a powerful group of MPs, and donated for tactics. And it worked.[3]
40,000 of us signed a petition to make sure that after Brexit, powers from the EU that affect Scotland go to Holyrood, not Westminster. There's still more to do, but our voices helped force the government to say they'd change the proposed law [4]
We forced the government to improve animal protection, in one of the first big decisions on how our laws will work after Brexit. All because hundreds of thousands of us signed a petition, and shared our ideas in a government consultation. [5]
And on top of all of that, hundreds of us have met our MPs, and tens of thousands more have emailed them. We can be sure that they know exactly what we expect them to do on Brexit [6]
But there are more big decisions about Brexit that 38 Degrees-ers need to take – and to do that it'll need thousands and thousands of us to have a say. The risks of sitting back and letting the government get away with making decisions behind closed doors are too great.
Notes:
[1] The Times: Boris Johnson promises liberal Brexit vision after mauling at cabinet:
https://www.thetimes.co.uk/article/johnson-promises-liberal-vision-of-brexit-after-cabinet-mauling-tb2vrj63s
Evening Standard: Brexiteers 'threaten to replace Theresa May' with 'dream team' of Boris Johnson, Michael Gove and Jacob Rees-Mogg
https://www.standard.co.uk/news/politics/brexiteers-threaten-to-replace-theresa-may-with-dream-team-of-boris-johnson-michael-gove-and-jacob-a3757416.html
The Mirror: Boris Johnson on course for 'Valentine's Day massacre' as he plans February Brexit speech:
https://www.mirror.co.uk/news/politics/boris-johnson-course-valentines-day-11981538
The National: Scottish Government tells UK: 'We've had enough of secret documents':
http://www.thenational.scot/news/15914749.Scottish_Government_tells_UK___We_ve_had_enough_of_secret_documents_/
[2]The Independent: Theresa May's plan to gain sweeping new powers ahead of Brexit revealed:
http://www.independent.co.uk/news/uk/politics/brexit-latest-theresa-may-powers-grab-plans-parliamentary-system-fix-a7935276.html
City AM: Trade bill unveiled in first move by government to prevent cliff edge for exporters:
http://www.cityam.com/275347/trade-bill-unveiled-first-move-government-prevent-cliff
Global Justice Now: How Liam Fox read sixty thousand comments on the trade consultation in a few hours:
http://www.globaljustice.org.uk/blog/2017/nov/22/how-liam-fox-read-60000-comments-trade-consultation-few-hours
Greenpeace: Liam Fox's department signs deal to keep trade deals secret:
https://unearthed.greenpeace.org/2017/12/20/brexit-trade-deal-liam-fox-us-uk/
[3] Evening Standard: Brexit latest: Ministers give in to rebels on Henry VIII powers:
https://www.standard.co.uk/news/politics/brexit-latest-ministers-to-give-major-concession-to-rebels-on-henry-viii-powers-a3715981.html
38 Degrees blog:
https://home.38degrees.org.uk/2017/12/31/end-2017-wrap/
[4] 38 Degrees:No Westminster power-grab: after Brexit, give EU powers to Holyrood:
https://speakout.38degrees.org.uk/campaigns/scotland-westminster-brexit
[5] The Guardian: Gove says UK law will specifically recognise animal sentience:
https://www.theguardian.com/world/2017/nov/23/uk-law-will-specifically-recognise-animal-sentience-michael-gove
[6] 38 Degrees: DIY Brexit:
http://www.diybrexit.38degrees.org.uk/
38 Degrees blog: DIY Brexit:
https://home.38degrees.org.uk/category/brexit/diy-brexit/