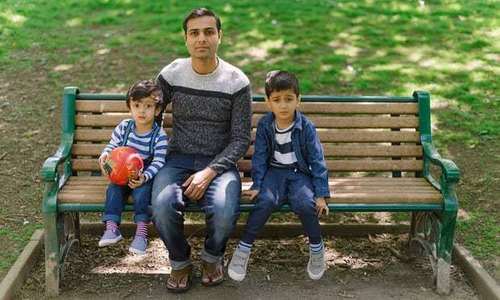 May 31st, 2018
Highly Skilled Workers
By 38 Degrees team
"I feel I am losing my will to live."
These are the words of health inspector Matu. [1] She's lived in the UK for 11 years, paid her taxes, volunteered in her community and raised her kids as a single mum. But now because of an everyday tax error, the Home Office are mis-using a law designed to protect us from terrorists to deport her. And she's not alone – almost 1,000 highly skilled migrants are having their lives torn apart after making common errors like Matu. [2]
But the tide is turning. After the Home Office came under fire from MPs and over 30,000 of us signed a petition, the Home Secretary is looking into these cases. [3] If we can turn up the pressure just as they're deciding what to do, we can make sure the doctors, scientists, and other skilled migrants our country relies on are treated fairly.
A huge petition, signed by over 100,000 of us and delivered straight to the Home Office, will prove the British public don't want hardworking people deported for making everyday tax errors. But we don't have long, they're reviewing the scandal right now and could make a decision any day.
Will you add your name before we deliver the petition on Monday? It only takes 30 seconds:
People like Matu have come to the UK to create life saving drugs, teach our kids, work in our NHS and train our engineers. [4] They've built a life here, paid taxes and raised families.
Now because of small tax errors that any of us could make, they're being falsely marked as terrorists as a quick way to deport them. Their passports are tagged, they can't work and they risk being deported at any time. Some are too afraid to sleep at night because they fear a knock at the door from someone coming to deport them. [5]
As 38 Degrees-ers we welcome people who come to the UK to enrich our society. Our NHS, schools and businesses rely on their contributions – and our public services benefit from their taxes. Whether it's standing up for the Windrush generation, or stopping the deportation of victims of child trafficking, we come together to fight Home Office cruelty and stand up for fairness and justice. [6]
Together we can force the Home Office to do the right thing. Will you sign the petition and stand up for the doctors, teachers and scientists who have given this country so much?
Highly Skilled Workers are a group of more than 600 doctors, engineers, IT professionals, teachers and lawyers challenging the Home Office's treatment of highly skilled migrants. They started the petition on the 38 Degrees website. You can read more about them here:
https://www.facebook.com/HighlySkilledUK/
NOTES:
[1] The Guardian: 'I feel like I'm drowning': healthcare inspector faces deportation by Home Office:
https://www.theguardian.com/uk-news/2018/may/08/i-feel-like-im-drowning-healthcare-inspector-faces-deportation-by-home-office
[2]The Guardian: At least 1,000 highly skilled migrants wrongly face deportation, experts reveal:
https://www.theguardian.com/uk-news/2018/may/06/at-least-1000-highly-skilled-migrants-wrongly-face-deportation-experts-reveal
The Telegraph: Fears of a fresh Windrush scandal amid reports highly-skilled migrants are being deported over minor tax errors:
https://www.telegraph.co.uk/politics/2018/05/01/fears-fresh-windrush-scandal-amid-reports-highly-skilled-migrants/
The Mirror: Highly-skilled immigrants wrongly dubbed terrorists so they can be deported in the latest Home Office scandal:
https://www.mirror.co.uk/news/politics/highly-skilled-immigrants-being-wrongly-12496876
The Guardian: Tax return error costs family their life-saving NHS care:
https://www.theguardian.com/uk-news/2018/may/08/tax-return-error-costs-family-their-life-saving-nhs-care
The Guardian: Pharmaceutical specialist loses job and home due to tax error:
https://www.theguardian.com/uk-news/2018/may/08/pharmaceutical-specialist-loses-job-and-home-due-to-tax-error
The Guardian: Girl with autism at risk of deportation over accountancy errors:
https://www.theguardian.com/uk-news/2018/mar/29/girl-with-autism-at-risk-of-deportation-over-accountancy-errors
[3] 38 Degrees: Stop abusing the national security clause to deport highly skilled migrants:
https://you.38degrees.org.uk/petitions/stop-abusing-the-national-security-clause-to-deport-highly-skilled-migrants
The Guardian: Government U-turn over anti-terror law used to deport migrants:
https://www.theguardian.com/uk-news/2018/may/29/government-review-anti-terror-law-section-322-5-migrant-deport
Financial Times: Javid halts removal of immigrants who altered tax returns: [paywall]
https://www.ft.com/content/573b37ee-634a-11e8-90c2-9563a0613e56
[4] See note 1
[5] See note 1
[6] 38 Degrees: Save the Windrush Generation – allow them to stay:
https://you.38degrees.org.uk/petitions/allow-commonwealth-citizens-who-arrived-here-as-children-automatic-right-to-remain-in-the-uk
38 Degrees: Allow trafficked teen "Stephen" to stay in the UK:
https://you.38degrees.org.uk/petitions/allow-shildon-s-stephen-to-stay-in-uk
38 Degrees blog: Home Office:
https://home.38degrees.org.uk/category/home-office/