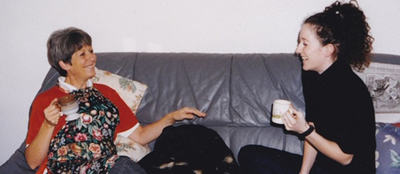 Jul 8th, 2019
Asbestos in schools
By Megan Bentall
Cancer-causing asbestos is in schools up and down the country. But right now it's impossible for parents to know if the school buildings their children go to are putting them in danger. Even worse, the government knows all about the problem – but won't pay to remove the dangerous asbestos from our schools.
Lucie's mum Sue died from cancer caused by asbestos in the schools she taught in. Now Lucy is fighting hard – alongside 118,000 members of 38 Degrees – to make sure no one else suffers like her mum. She's got a plan to ramp up the pressure on government officials, but she can't do it alone.
She wants to build a website so parents can search and find out if schools near them are safe – or if they have an asbestos problem – and email their MP and local papers if they aren't. It would lift the lid on the scale of the danger children and teachers face, and make it impossible for politicians to ignore.
To force ministers to take action, we have to make the issue of asbestos in schools too toxic to ignore. The website plans to do just that – lifting the lid on the scale of the crisis, giving parents and teachers the tools they need to shame the government into action.
This website could be a game changer in the fight against asbestos but it's going to cost £15,000 to get it up and running , and in the press. Lucie wouldn't be able to fund this website alone – but if the thousands of us reading this come together and chip in a few pounds each, we can raise the money in no time. That's the beauty of 38 Degrees.
Can you chip in just a few pounds today and help Lucie in her fight to make our schools safer? 
Lucie with her mum Sue, before she passed away
Lucie's mum, Sue, taught more than 800 children over a 30 year career, but the schools she taught in contained the asbestos that caused the disease that took her life.
Before her mum died, Lucie made her a promise; that she would do her best to make sure no-one else has to suffer like she did.