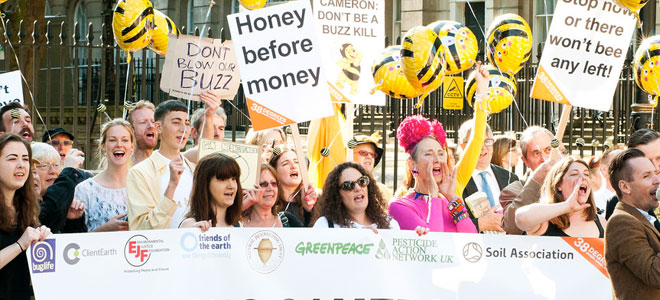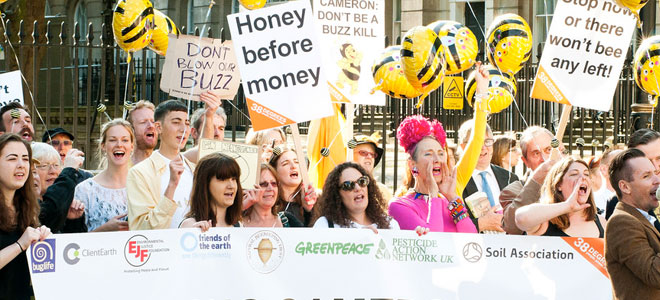 We work on a huge range of different issues, both locally and nationally. For the campaigns we work on to be a success it's really important that we draw on advice and work with other campaigning groups, experts and others to make sure we're getting good information about the best way to make change happen. We also run joint campaigns with other organisations.
A few examples of this are:
We teamed up with Which? on The Big Switch. Over 200,000 38 Degrees members and Which? supporters signed up to switch gas and electricity providers to bargain together for the cheapest deal.
We teamed up with RSPB, Greenpeace, Stop Climate Chaos and Friends of the Earth on a range of different campaigns to tackle climate change. For example, thousands of 38 Degrees members urged David Cameron to listen to his expert scientific advice and keep his green promises. And we won!
We worked with a whole host of local campaigns groups working to protect their local forests to make sure the national campaign to protect our woodlands was a success.
How do you decide on campaigns?
38 Degrees is member driven. It's the members who set the agenda, choose campaigns and help pick the tactics we use to win together.  Campaigns are chosen and prioritised by members through regular polls. You can see the latest poll results here.
There are three key ingredients for a great 38 Degrees campaign:
Urgency: 38 Degrees members come together at tipping point moments to make change happen
Member impact: 38 Degrees members take simple, powerful actions together when people power makes the difference
Awareness: 38 Degrees works best when we weigh in on things about which there is already some awareness and presence in the news
Members can also suggest campaigns by sharing ideas on the Facebook page, blog, or by tweeting their idea to @38_degrees. We also test how a campaign performs with a small section of the membership before we share it more widely. Staff and volunteers in the 38 Degrees office then work together to identify the issues most important to members.
Can organisations suggest campaigns?
It's great to hear from organisations, whether about something we're already campaigning on or to suggest a new campaign or action that 38 Degrees members might be interested in supporting.
We won't be able to do every campaign suggested, but by adding your campaign idea you'll give 38 Degrees members the opportunity to comment, suggest improvements and vote for the best idea.
If you do have a campaign suggestion, or an idea for an action as part of a outstanding campaign action, these are the questions that a 38 Degrees staff member would typically ask:
What are the deadlines?
Who are the campaign targets?
Who's against the campaign?
Is it a moment for people powered campaigning?
Can organisations use Campaigns by You?
Campaigns by You allows anyone to start and run a petition on any issue they like. The site gives you access to tools that help you share and grow your petition, contact people who've signed it to organise demonstrations and hand-ins, and gather signatures offline.
The Campaigns by You site allows the 38 Degrees team to create "Community Groups" for other organisations. This will give you your own landing page which you can use to start petitions on the site. You will also be able to extract the email addresses of people who sign the petition and add them to your own database or mailing list if they opt-in.
If you choose to share your Community Group page with your members, they will also be able to use it to start petitions on Campaigns by You under your organisation's name. This feature gives you the scope to organise localised petitions and bottom-up, member-led campaigns.
How do I get in touch?
Please do contact emailtheteam@38degrees.org.uk or call 0207 8460 093 if you have any suggestions, comments, or want to arrange a meeting.