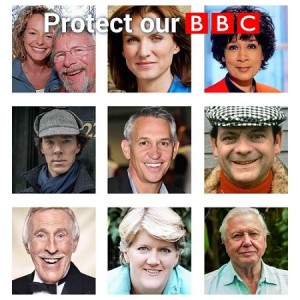 Oct 28th, 2015
The BBC campaign: what we've done so far
By Becca McCarthy
This post takes a look back at what 38 Degrees members have done together in the BBC campaign so far.
The story started in the summer, when the government published its Green Paper. It included lots of scary plans for our BBC, like threats to its funding, cuts to popular programmes and radio stations, and challenges to its independence.
38 Degrees members jumped into action – an incredible 320,000 people signed the petition to protect our public broadcaster!
The momentum continued into September, when hundreds of members went down to the big televised BBC Proms in the Park events, handing out thousands of 'Protect Our BBC' flags so that everywhere event goers and TV cameras looked, they saw our message.
Here are some fabulous 38 Degrees members with their flags!
In October, the energy showed no signs of abating. 177,000 people wrote into the government's consultation on the future of the BBC – a record-breaking number for the Department of Culture, Media and Sport! This was an amazing response – showing the government just how important the BBC is to the public.
Next, 38 Degrees members voted to launch a campaign to challenge Rupert Murdoch, a commercial media baron who'd love to see the BBC cut down so he could benefit: he's one of our public broadcaster's biggest threats.  For more details on this, see a blog post here.
The might of Murdoch is putting pressure on government ministers to cut the BBC, but 38 Degrees members' collective voices have come out in force, with people coming together in focus groups across the country to discuss the next steps of the campaign and brainstorm tactics for our campaign together.

Which brings us up to today. We've made our voices heard so far, but we need to continue the pressure on the government to make sure ministers listen to people over the power of Murdoch.