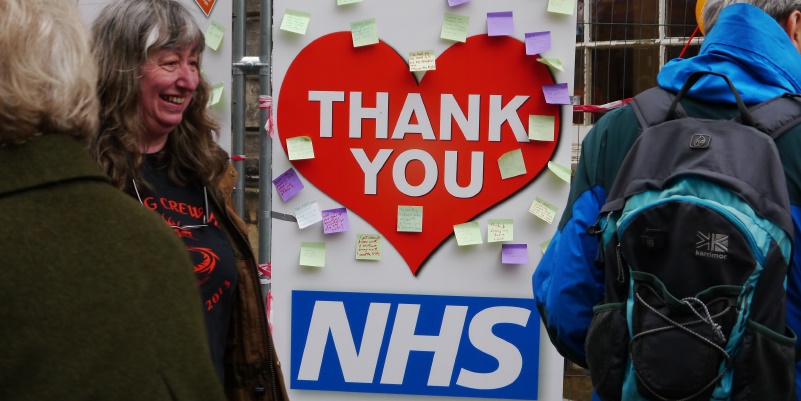 Mar 26th, 2016
Justice, compassion and fairness
By Rachel Oliver
Behind every headline is a person.
It's a simple but powerful truth. And it's one that our own government was forced to admit this week as the new Minister for Work and Pensions finally confirmed what we've all been pushing for: the cancellation of cruel cuts in support for disabled people.
This is what he said in Parliament: "Behind every statistic is a human being and perhaps sometimes in government we forget that."
From Aberdeen to Amber Valley, 38 Degrees members all know that politics is too important to be left to politicians alone. And we've proven time and time again that when we work together, we're a powerful force for justice, compassion and fairness.
Just take a look at what else we've achieved together already this year.

Closing the Mayfair Loophole
For years the government rubber stamped a loophole that allowed finance bosses to dodge up to £700 million a year in tax. But on 1st April, thanks to 38 Degrees members, the government announced it was closing the Mayfair loophole
Finally, private equity bosses will pay income tax like the rest of us – and it was all down to thousands of 38 Degrees members working together.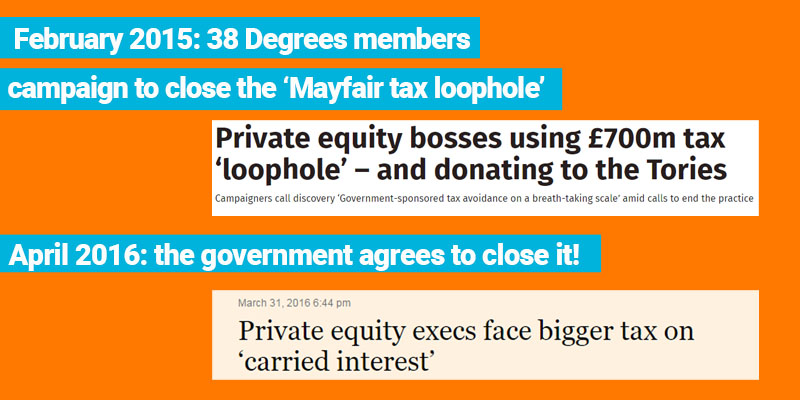 An independent, well-funded BBC
38 Degrees members know that if you want to stay informed, you have to find a way to cut through the spin and find the truth behind the headlines.
Together we funded polling that proves that when it comes to public trust, the BBC beats the government hands down. The people-powered results made headlines nationwide. We submitted over 177,000 submissions to the government consultation over the future of the BBC, and ensured they couldn't write us off.
And we made it harder for politicians to get away with giving themselves the power the pick and choose the people who run the BBC, with a huge emergency petition to keep the BBC independent – now 160,000 people strong and counting.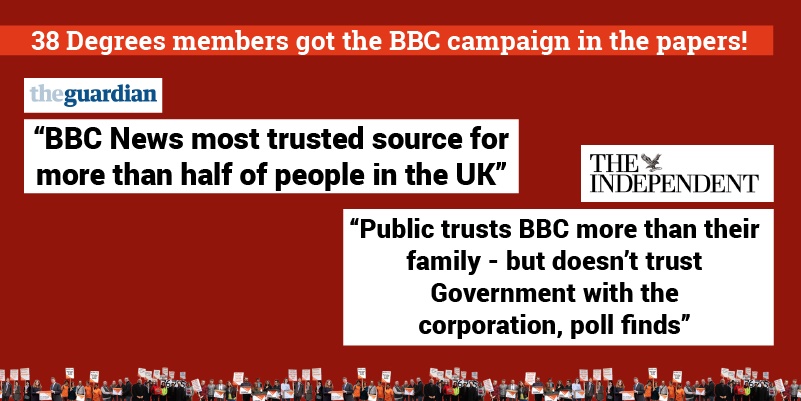 Freedom of Information
38 Degrees members believe in transparency and democracy. We know we can't hold politicians accountable if we can't find out what they're doing, what they're spending money on, and who they're talking to behind the scenes.
So when the government set out cynical plans to water down Freedom of Information laws, thousands of us sprung into action. And – thanks to us – they've now backpedalled completely. Plus, their own advisors agreed that we've the right to know what companies like Serco and G4S are up to when they provide public services like our NHS (See page 52 of the Independent Commission on Freedom of Information report here).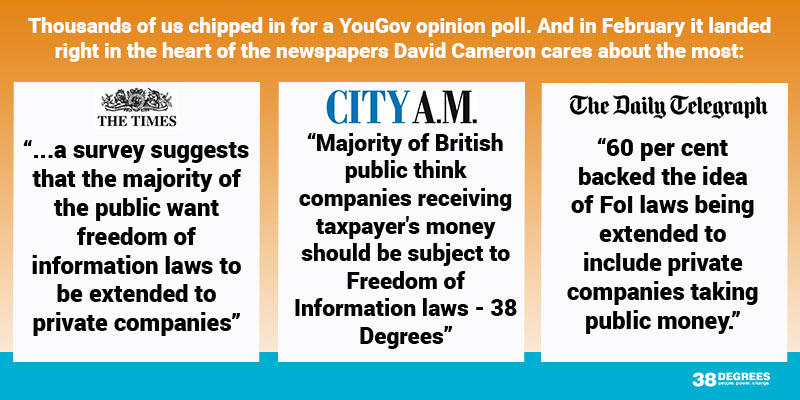 People power just keeps on growing
It's not just our politicians we've been holding to account so far in 2016. Together we took on Asda's plans to cut collections for food banks – and won.
And we've been turning our backs on rip-off energy companies, using our collective bargaining power to negotiate better deals and switch en masse. Already, thousands of us have switched – sending shockwaves through the boardrooms of the Big Six.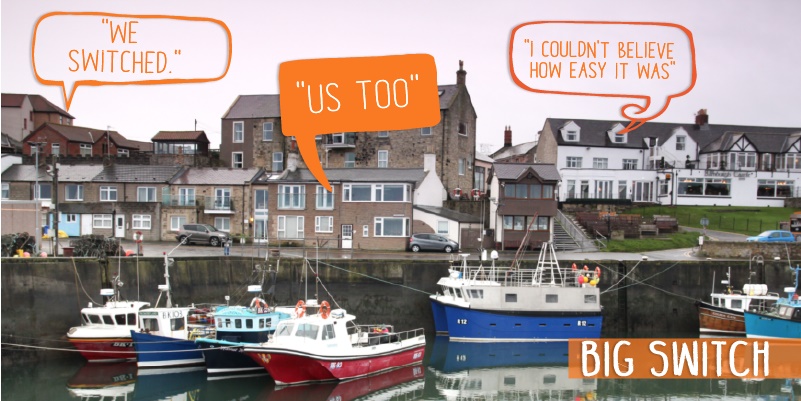 Defending our NHS
38 Degrees members voted the NHS our top priority for 2016. We're working together to protect a system that puts people over profit. 2016 will be the year we build the movement to protect our local NHS services in our towns, cities and villages across England.
More than 6000 of us are chatting online – and meeting up to plan what to do together to make sure we have the right NHS care for our communities. Here's what 38 Degrees member, Tamara, from north London said after going along to her local NHS meetup:
'We had a really lovely eclectic mix of people, we want to inform, activate and campaign for positive change in our community, while firmly remaining apolitical'
We're getting to know each other and getting organised. And it's already working: from Lewisham to Derbyshire, there are countless examples of doctors' surgeries, A&Es and cancer services that are still open for everyone because local people worked together. There's only one difference between the services that get shut down quietly and those that continue to save lives: it's people like us.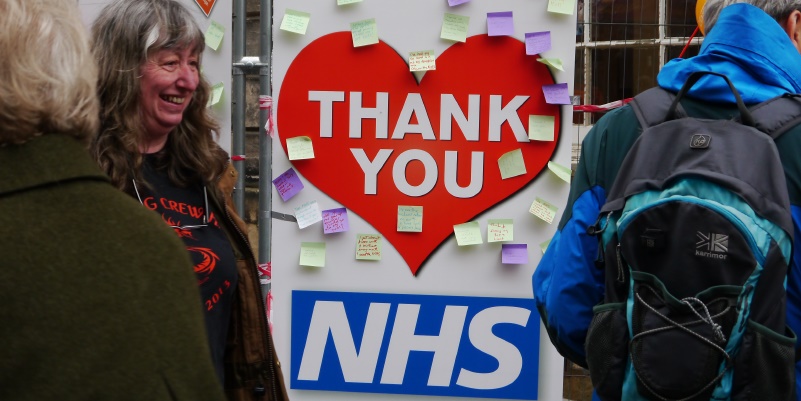 And together we're making waves locally on other issues we care about …
In Nottinghamshire, Leicestershire and Northamptonshire, 38 Degrees members Vic, Karen and Peter's campaigns stopped G4S from taking over the police 999 service. In Bristol, Elisha persuaded the council to open up a new shelter for the homeless during the harsh winter weather. And Krys in Birmingham worked with hundreds of others to save essential services at Good Hope Hospital.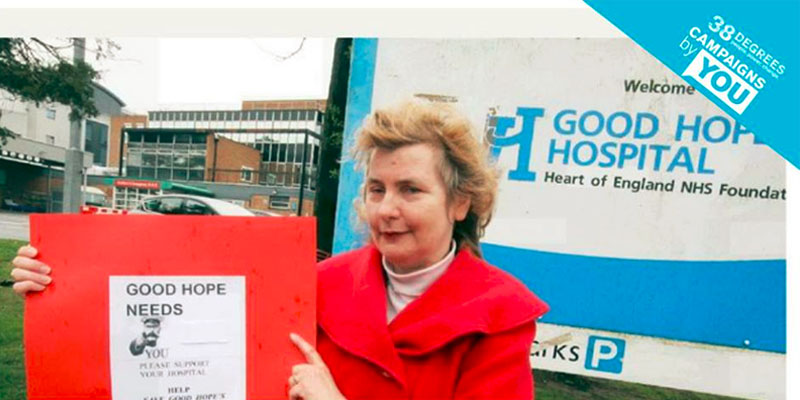 38 Degrees members show what's possible when lots of people stand together for something better. People like us prove that when we unite behind hope, not fear, we can move Britain even closer to the kind of country that makes us proud to live here.
Thank you for being part of this millions-strong movement. Here's to us.
David Babbs
Executive Director of 38 Degrees