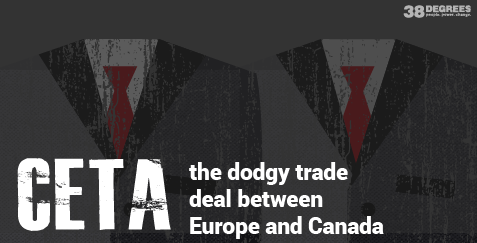 Oct 27th, 2016
Urgent CETA vote in the Scottish Parliament
By [email protected]
We have a great chance to throw a spanner in the works of a truly terrifying trade deal. But we have to act together right now.
In just a few hours the Scottish Parliament is voting on this deal, known as CETA. It could let big companies rip up laws or regulations that damage their profit. That affects you – because firms could target rules covering the safety of the food on your plate, or the countryside you go for walks in.
Right now, the vote hangs in the balance, so we need to persuade our MSPs to vote against CETA. That's where we come in. If hundreds of us contact our MSPs they'll know they need to act today.
Across Europe, CETA is in trouble. Earlier this week, the Belgian region of Wallonia refused to sign up to the deal and blocked it being signed. But the dodgy deal's not dead yet – and Wallonia can't do it alone. The Scottish Parliament can't block CETA but it can pile on the pressure at a crucial moment.
This where 38 Degrees members (that's you!) come in. 38 Degrees is made up of people from across the country who campaign to make real change happen. When we come together to speak out on the issues we care about, we make politicians sit up and take notice.
We only have a few hours, so can you take a moment to contact your MSPs here and get us one step closer to stopping CETA?