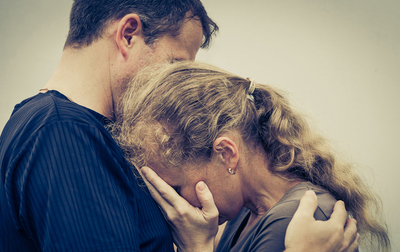 Feb 10th, 2019
"Natural migration" onto Universal Credit
By 38 Degrees team
It's a scandal. The government is quietly forcing thousands more families onto Universal Credit – leaving them hundreds of pounds worse off and waiting weeks for money they need to put food on the table. [1]
The minister in charge, Amber Rudd, admits this benefit system isn't fit for purpose – she even promised to delay forcing more people onto Universal Credit. [2] But a group of influential MPs are exposing the truth: there's a massive loophole which means the number of people on Universal Credit will double in the next year. [3]
Carl was left with less money after being forced onto Universal Credit when his wife passed away. So he's started a petition on the 38 Degrees website to stop Universal Credit making other families worse off too. [4] If we're going to make this a scandal Amber Rudd can't ignore, we're going to need to pile in behind Carl.
Will you sign Carl's petition to make sure no one else is made worse off after being moved to Universal Credit?
Here is Carl's story:
"I moved onto Universal Credit two years ago when my wife sadly lost her battle with cancer. I had to quit my job to look after my two young children and I was left waiting for weeks before my payment came through. Basic rights are put in jeopardy such as food, water, and a roof over your families head." [5]
And Carl's not alone. From struggling to pay essential bills, to turning to food banks to feed their families, thousands of 38 Degrees members – people like you reading these emails – have spoken about how Universal Credit has made their lives harder. [6]
It's these stories, and thousands more of us standing with them, that helped force Amber Rudd to delay the official 'roll out' of Universal Credit. [7] But millions of families like Carl's will still be forced onto the new benefit if their circumstances suddenly change – like they move house or find a new partner – with no guarantee they won't be left worse off. [8]
If you think the government need to sort this mess out before millions more people are forced into food banks and onto the streets, please sign Carl's petition now:
PS: Carl set up his petition on the 38 Degrees website.
With 38 Degrees anyone can start their own campaign with the click of a button. But that's just where your journey begins. Creating a petition, then sharing it with friends and colleagues, can soon give you a groundswell of support. Perhaps you'll end up changing something really important. Use this link to get your campaign started today, it takes just a couple of minutes and we'll support you every step of the way:
https://link.38degrees.org.uk/start-campaign
NOTES:
[1] The Sun: CRISIS COMING Number of people on Universal Credit will DOUBLE despite serious issues with benefit:
https://www.thesun.co.uk/news/8140800/universal-credit-crisis-to-get-even-worse-as-numbers-to-double-this-year-despite-rollout-delay/
The Mirror: Universal Credit: Number of people on new benefit will DOUBLE this year:
https://www.mirror.co.uk/news/politics/universal-credit-crisis-number-families-13827580
Threat of revolt forces rethink of 'catastrophic' universal credit:
https://www.theguardian.com/society/2019/jan/05/amber-rudd-to-delay-universal-credit-roll-out-pilot-study
[2] See note 1
[3] Government U-turns earlier this year mean that most existing benefit claimants won't be moved onto Universal Credit until 2020 and will be given extra protections to ease the transition when it happens. However new claimants, or people whose circumstances change (such as a change of address of marital status), are being signed up at the same speed as planned – without any of the governments protections.
Parliament UK: Universal Credit- natural migration:
https://www.parliament.uk/business/committees/committees-a-z/commons-select/work-and-pensions-committee/inquiries/parliament-2017/inquiry/natural-migration-inquiry-17-19/
[4] 38 Degrees: No one moving onto Universal Credit should be left worse off:
https://you.38degrees.org.uk/petitions/make-sure-no-one-moving-onto-universal-credit-is-left-worse-off-1
[5] See note 3
[6] Last year, thousands of 38 Degrees members shared their experiences of Universal Credit with there MPs and the media.
The Daily Mail: Dozens of Tory MPs could lose seats over Universal Credit:
https://www.dailymail.co.uk/news/article-6319429/Dozens-Tory-MPs-including-Iain-Duncan-Smith-lose-seats-Universal-Credit.html
[7] 38 Degrees: Update: Universal Credit:
https://home.38degrees.org.uk/2019/02/04/update-universal-credit-2/
Threat of revolt forces rethink of 'catastrophic' universal credit:
https://www.theguardian.com/society/2019/jan/05/amber-rudd-to-delay-universal-credit-roll-out-pilot-study
[8] The Sun: CRISIS COMING Number of people on Universal Credit will DOUBLE despite serious issues with benefit:
https://www.thesun.co.uk/news/8140800/universal-credit-crisis-to-get-even-worse-as-numbers-to-double-this-year-despite-rollout-delay/
The Trussell Trust: Universal Credit and Food Banks:
https://www.trusselltrust.org/what-we-do/research-advocacy/universal-credit-and-foodbank-use/