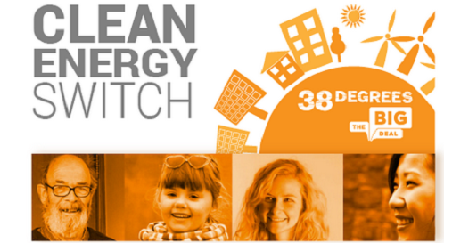 Sep 26th, 2015
Clean Energy Switch: two days to go
By bex
Something incredible is happening: people power is taking on dirty energy companies, and we're winning. In our thousands, 38 Degrees members are moving to a cleaner, cheaper energy supplier.
Are you sick of the polluting, overpriced Big Six energy companies like Npower and British Gas? Now on a mass scale, 38 Degrees members are switching to a cleaner deal. We're using our light switches, kitchen stoves and radiators to beat big business at their own game.
If you sign up in the next two days you can be part of it too. Over 100,000 of us have negotiated a people-powered deal with a better supplier: it's clean, and it's on average £232 cheaper than the Big Six – all that's needed is you.  
It's simple to join the Clean Energy Switch: just click this link, make sure you're happy with the deal, and then fill out a short form to switch
Here's how it works:
Once you're ready to be a part of the switch it will only take about 5 minutes to complete. All you need to have to hand is a few basic details about your energy use. Here are the four steps to follow:
1. Enter your email address and postcode into the switch website:
https://secure.38degrees.org.uk/clean-energy-switch-now
2. Enter some basic details about your current energy supplier, so they can calculate how much you'll be spending with your new supplier (but it's ok if you don't know all your details)
3. See how much you'll save and decide whether or not you want to switch
4. If you decide to switch, just enter your bank details into the secure website and our expert switching partners at the Big Deal will take care of the rest for you. Simple.
Plus, for every one of us who switch, 38 Degrees gets £12.50 to fund our campaigning together.
There's only two days left to join – will you join thousands of others now? Click here to see the cleaner, cheaper deal and decide if you want to switch
Thousands of 38 Degrees members have made the simple switch in the past 48 hours – here's what a few of them had to say:

"I was totally fed up with nPower and was pleased when 38 Degrees started this initiative. I am very pleased to have gone green and will probably as a very high user save £300" John, 38 Degrees member leaving npower
"What a wonderful way to make REAL change. I feel like I'm making a real contribution, as well as having a pretty low bill. A new, radically practical way to both protest and make a better world" Emma, 38 Degrees member leaving Scottish Power
"I was delighted to be offered this deal and make my little contribution to a cleaner world. The Big Deal Clean Energy Switch were very helpful and the process was easier than expected"Andrew, 38 Degrees member
So can you join John, Emma and Andrew before the deal closes? Together, we're ditching rip-off dirty energy and switching to a cleaner, cheaper supplier. Take part now.
The Clean Energy Switch is a partnership between 38 Degrees and The Big Deal. The Big Deal is a for-profit business with expertise in collective energy switching and a track record of campaigning in this area. They will take a £12.50 share of the commission generated by each switch. To read more about the Big Deal and their relationship with 38 Degrees, please click here
To read more about the Clean Energy Switch, please click here