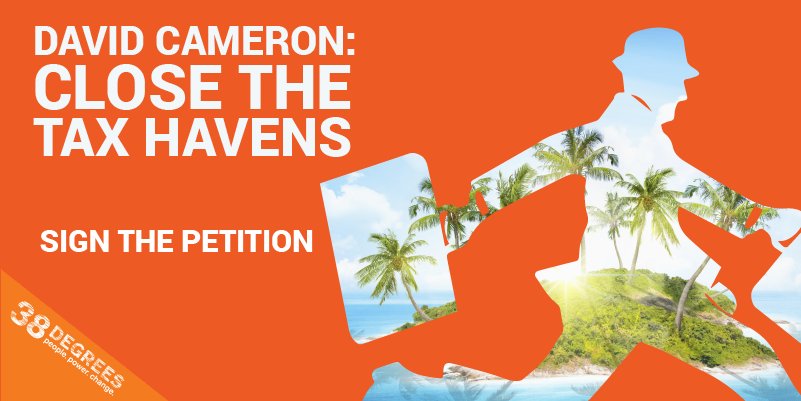 Apr 12th, 2016
David Cameron: Shut down tax havens
By Amy Lockwood
The world's rich and famous are squirreling away their wealth to dodge tax. For the first time, there's a paper trail of proof, thanks to millions of documents leaked from offshore tax havens.
It's a global scandal. But the UK could play a unique role in fixing it. The clue is in the name of the biggest tax haven: the British Virgin Islands. As a tax expert in today's Guardian points out, "at a stroke our government could shut down the British Virgin Islands corporate system".
Let's use this scandal to force David Cameron to shut British tax havens down. He's promised to crackdown on tax dodging for years. But too often he's talked tough while letting tax havens carry on as usual. Now we have an opportunity to embarrass him into action. That starts with a huge petition, proving that David Cameron will stay in the spotlight until he acts.
Please click here to sign the petition now.
If there's ever going to be a time to force David Cameron to take action, it's now, when the UK is the centre of the story. The mega-rich people exposed for using the British Virgin Islands to hide their wealth range from friends of Russian President Vladimir Putin, to Conservative party donors and David Cameron's own father.
If hundreds of thousands of us add our names to the petition today, it'll keep David Cameron at the heart of the story – proving the public want him to act. It's our way of saying we're watching, and wont be fobbed off by Cameron's tough words.
Please click here to sign the petition now.
For too long, tax dodging has been seen as something too hard, too complicated, too global to solve. But that's not true: it's spin from the rich and powerful people who use tax havens. They've been exposed now – and with the stroke of a pen David Cameron can shut these tax havens down.
Just last year, our government denied the Mayfair loophole existed. But 38 Degrees members exposed it, and our huge public voice of people-power was persistent until the government was forced to tackle it. It always seems impossible until it's done. Suddenly forcing David Cameron to shut down tax havens looks less impossible than it ever has before!