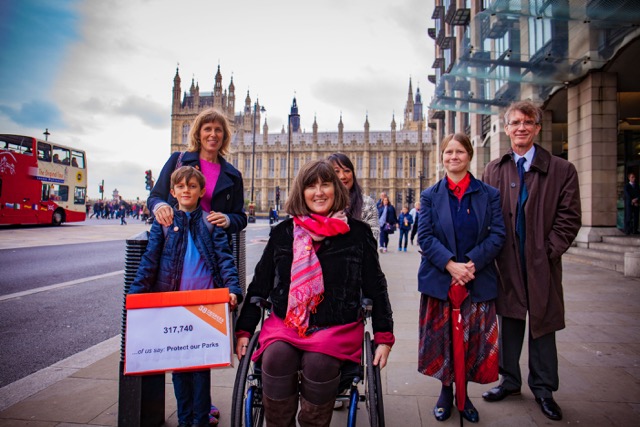 Oct 31st, 2016
Parks Select Committee Meeting
By Alistair Rooms
Monday was a good day for people-power. I went to parliament with five other 38 Degrees members to take our campaign to protect the UK's parks straight to MPs. Together, we represented the views of over 300,000 of us. [1] We spoke to an influential group of MPs – a select committee – who are looking at the threats to our precious green spaces.
I came away proud of what we've done together so far – but worried we've got a long way to go before our parks are protected for good. The MPs we met were positive about what we had to say – but face tough choices ahead.
Local councils have had their budgets slashed. Areas of lush, green parkland are being sold off to developers. Experts are warning our parks face neglect and risk becoming no-go areas. [2]
It means there's still a lot to do to protect our parks. We'll have to go all in to ensure that parks don't decline to an unusable point. What do you think? Are you in?
We won't be hearing back from the Committee until the new year. In the meantime, there's more we could be doing to save our parks.We could commission research, to find out where the hardest hit parks are, then get the message out far and wide in the press. We could meet with our MPs and local councillors to highlight the danger to our parks. Or we could get out and about in our parks and get more people involved in the campaign.38 Degrees members have a history of being in for the long haul on issues we care about.
Whether it's spending years fighting to protect bees, or campaigning to safeguard the future of the NHS. [3,4]As 38 Degrees member Natalia, from Sheffield, said: "Parks are one of the few places we can go to enjoy the time, enjoy the air, the peace the quiet from the noisy streets, noisy city, our noisy heads. Parks are the thing, the places that give us that joy, that space and they must be protected."So, do you agree with Natalia? Should we give it all we've got when it comes to campaigning to ensure our parks are protected?
By Charlotte Woodworth
NOTES:
[1] The original petition is here:
https://speakout.38degrees.org.uk/campaigns/template-petition-clone-db4049d9-5815-49c3-832a-aad722deb5b6
The submissions from the survey summaries are below:
[2] See this article for more detail https://www.theguardian.com/travel/2016/oct/23/public-parks-nightmare-funding-crisis-parliament-inquiry
[3] Read more about our triumph on bees here:
https://home.38degrees.org.uk/2016/07/06/bees-1-pesticide-companies-0/
[4] Read more about our work to save the NHS here:
https://home.38degrees.org.uk/2016/10/13/secret-nhs-plans-exposed/https://business.facebook.com/peoplepowerchange/videos/10157666457430788/
Get your friends involved