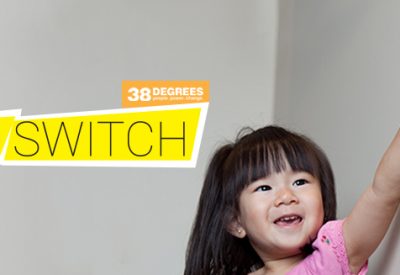 Nov 1st, 2017
Switching your energy provider
By Becca McCarthy
The clocks have gone back, it's getting dark at 4pm and the cold is creeping in. It's that time of year when many of us are thinking a bit more about where our money is going.
Energy bills are one of the easiest things to ignore – it's easy to assume "that's just what I pay". But that's exactly what the big energy companies want us to think, and it means most of us are paying way more than we need to. [1]
But it doesn't need to be that way. For the next 10 days (until 10th November), you're one of a special group of members who have a chance to switch energy providers and save hundreds of pounds that you could put towards that next heating bill or some extra Christmas presents.
The office team at 38 Degrees have worked with our expert switching partners, the Big Deal, to secure a deal with a great energy provider. [2] They're called Octopus Energy, and 38 Degrees-ers have had good experiences with switching to them before.
All you need to do is fill out a form with your details, see what the deal is, and decide if you want to take it. It's that easy and could save you £229. [3]
Would you like to see the deal?
See how much I could save
So, who are Octopus Energy and why were they chosen?
• Launched in 2015, Octopus Energy are a smaller energy company, they're part of Octopus Investments – the UK's largest investor in solar farms, and their deals do not have exit fees. [4]
• Octopus Energyis rated 5/5 stars on the independent reviews site, Trustpilot. [5]
• The deal will cost the average household £903 over a period of 12 months, assuming you get both your gas and electricity from them with medium usage. [6]
38 Degrees is a member-led organisation – which means people like you are at the heart of what we do. We don't want you to be taken by surprise, or pay more for your energy than you need to.
For every switch 38 Degrees gets money to put back into campaigns our members care about. If you're with Octopus now, and you take this deal, 38 Degrees will get £10.60, if you've switched with us previously 38 Degrees receives £21.25, and if you're completely new to switching, 38 Degrees gets £18.75. The Big Deal makes around the same.
If you're interested all you need to do is fill out your details and see how much you'd save. You can then decide whether you want to switch or stay put. And, you'll be able to compare your savings with this Octopus deal with every deal on the market at the click of a button – so there's no confusion and no pressure to switch.
PS: For every switch 38 Degrees gets money to put back into campaigns our members care about. If you're with Octopus now, and you take this deal, 38 Degrees will get £10.60, if you've switched with us previously 38 Degrees receives £21.25, and if you're completely new to switching, 38 Degrees gets £18.75. The Big Deal makes around the same.
If you have any other questions about the switch check out the help page here:
https://home.38degrees.org.uk/big-switch-november-2017/

And if you have any questions while making your switch, our expert energy partners at the Big Deal will be on hand to help – there's a phone line you can call 9am to 6pm Monday to Friday, and 9am to 4pm on Saturday. You can call them on 020 3870 2039. You can also submit an online form at:
https://support.thebigdeal.com/open.php

PPS: Please note that if you do decide to switch, your first Direct Debit will come out the day your energy supplier switches to Octopus (you'll make your initial payment on the day you become an Octopus customer, so your account opens with some credit.) Octopus estimate your annual energy usage at first based on the estimates you give, and this initial payment helps smooth any changes and keeps your monthly expenses stable. This means you may have two payments in the first month, but don't worry, you will never pay for more energy than you use.

NOTES:
[1]The Big Six is the name given to the six biggest gas and electricity companies in the UK: British Gas, Npower, Scottish Power, EON, EDF and SSE. The majority of us currently get our energy from one of those companies. They have been accused of overcharging numerous times, and some of them have consistently received bad customer ratings on top of that.
The Guardian: Energy companies 'ripping off' millions, ministers say:
https://www.theguardian.com/money/2017/mar/12/millions-overpaying-energy-bills-admits-ministry-big-six
The Daily Mail: Millions hit with double whammy by energy firms: They get most expensive deals AND woeful customer service:
http://www.dailymail.co.uk/news/article-4221534/Big-Six-energy-firms-expensive.html
[2] For this switch, 38 Degrees has partnered with The Big Deal. They're a for-profit business that campaigns against rip-off energy. To read more about the Big Deal and their relationship with 38 Degrees, please click here:
https://home.38degrees.org.uk/big-switch-november-2017/
There's more explanation here:
https://home.38degrees.org.uk/2016/11/14/everything-you-need-to-know-switch/
[3] The average price of the Big Six standard variable tariff on medium usage is £1,132. Our deal with Octopus costs £903. This is assuming medium usage over a 12 month period.
If you're on another deal or with a non-Big Six supplier, you'll probably still save a decent amount – you'll be able to see the savings when you click this link and fill in a few details about your current energy deal:
http://link.38degrees.org.uk/big-switch-deal-ps1
[4] Octopus Energy's backer, Octopus Investments, are the UK's largest investor in solar farms, with over £1.5 billion invested to date. Octopus-funded farms generate 40% of the UK's large-scale solar power – enough to power over a quarter of a million homes.
[5] Octopus Energy has a 5/5 rating on the independent customer reviews site, Trustpilot – and they've got email customer service support 7 days a week. To read more about how our expert energy partners The Big Deal – a business that campaigns against rip-off energy – took 38 Degrees member priorities into consideration when negotiating a deal, see more here:
https://home.38degrees.org.uk/2016/11/28/octopus-isupply-energy-chosen/
[6] It is a 1 year fixed term tariff. It will cost the average dual fuel household £903 on medium usage over a period of 12 months. Octopus also have a clean deal of £925 on medium usage.
You can read more about switching, the exact unit prices, and other frequently asked questions here:
https://home.38degrees.org.uk/big-switch-november-2017/
And you can read more about past switches with 38 Degrees here:
https://home.38degrees.org.uk/2016/11/14/everything-you-need-to-know-switch/
You can read more about Octopus Energy here:
https://octopus.energy/