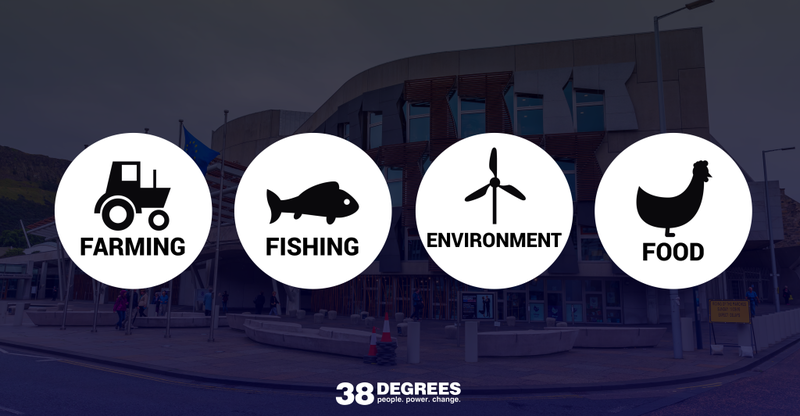 Nov 14th, 2017
Scottish Devolution
By Becca McCarthy
Picture the scene: it's a few years from now, and the Brexit dust is beginning to settle. The deals have been done and decisions made. But powers over devolved issues that once sat with the EU now sit with the government in Westminster. Miles away from our famous landmarks and world class industries, decisions over Scotland's future are being made in London.
As things stand that's exactly what the Westminster government's plans for Brexit would mean. [1] However, a growing chorus of voices are demanding Brexit means more devolution, not less – including over 35,000 38 Degrees members. [2]
The deal's not done yet. A huge petition would put the weight of the public behind cross-party calls from Nicola Sturgeon, Gordon Brown and Scottish Conservatives. [3] Together, we can make it impossible for Westminster to keep powers that belong in Holyrood.
Will you add your name to the petition that could save devolution?
What happens to devolution affects us all. It affects decisions about the food on our plates, the fish in our seas, the bees in our fields and even our newly-won ban on fracking. [4] When decisions are made at Holyrood, it's easier for people-power here in Scotland to influence them. [5]
As 38 Degrees-ers in Scotland, together we've successfully campaigned on fracking, land reform, protecting beavers, banning bee-killing pesticides and much more. [6] We can't let all that hard work be lost as Westminster takes control over those decisions.
Notes:
[1] The Herald: Nicola Sturgeon publishes full list of 111 powers vulnerable to Brexit "power grab":
http://www.heraldscotland.com/politics/15544320.Full_list_of_111_powers_vulnerable_to_Brexit__power_grab__published/
Friends of the Earth: Brexit powers transfer threat to environment:
https://foe.scot/press-release/brexit-powers-threat-environment/
[2] 38 Degrees: No Westminster power-grab: after Brexit, give EU powers to Holyrood:
https://speakout.38degrees.org.uk/campaigns/scotland-westminster-brexit
[3] The Guardian: Scottish and Welsh leaders seek to ward off Westminster 'hijack' of powers:
https://www.theguardian.com/politics/2017/sep/19/scottish-and-welsh-leaders-seek-to-ward-off-westminster-hijack-of-powers
The Telegraph: Gordon Brown lays out third option for Scotland to avoid 'bitter division' and Whitehall 'power grab':
http://www.telegraph.co.uk/news/2017/03/18/gordon-brown-lays-third-option-scotland-avoid-bitter-division/
Scotsman: Adam Tomkins: How to avoid a Brexit 'power grab' crisis:
http://www.scotsman.com/news/opinion/adam-tomkins-how-to-avoid-a-brexit-power-grab-crisis-1-4607419
[4] See note 6 [5] Faculty of Advocates: Response to the Call for Evidence issued by the House of Lords Constitution Committee concerning the European Union (Withdrawal) Bill:
"The list of areas where the UK government considers that a common policy framework may be required is long, and its content is very broadly drawn. Some of the 111 areas listed are so imprecise as to be incapable of meaningful understanding, for example 'land use'. If this list is the basis for identifying where proposed legislation of the Scottish Parliament post exit may involve an area that 'need(s) a common framework', it threatens to encroach on matters that are already devolved and legislated on by Holyrood under the current settlement."
http://www.advocates.org.uk/media/2562/final-faculty-response-12-october-2017.pdf
[6] 38 Degrees: 'Fracking cannot and will not happen in Scotland':
https://home.38degrees.org.uk/2017/10/03/fracking-cannot-will-not-take-place-scotland/
38 Degrees: 38 Degrees members make Scotland a bit fairer:
https://home.38degrees.org.uk/2016/03/17/38-degrees-members-make-scotland-bit-fairer/
38 Degrees: Together, We've saved the beavers!:
https://home.38degrees.org.uk/2016/11/25/weve-saved-beavers/
38 Degrees: Welcome card:
https://home.38degrees.org.uk/2016/06/04/welcome-card-roseanna-cunningham/
The Scotsman: Scottish Government plan to save bees and butterflies:
http://www.scotsman.com/news/environment/scottish-government-plan-to-save-bees-and-butterflies-1-4514986
The Guardian: Scotland bans controversial gas extraction technique:
https://www.theguardian.com/environment/2016/oct/06/scotland-bans-underground-coal-gasification-ugc