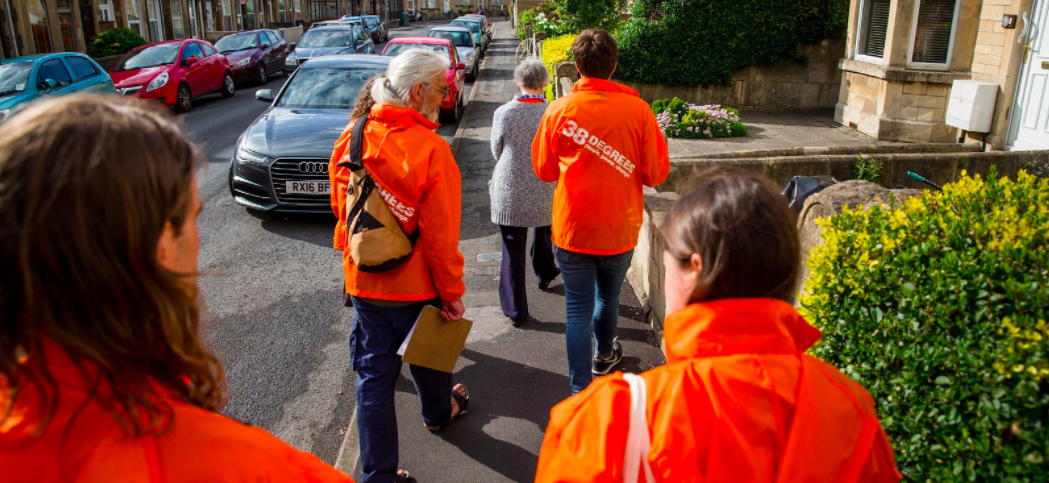 Jun 14th, 2017
What did 38 Degrees members do this election?
By Michael Poland

192,227 of us helped decide what to do together
Once the snap election was called, 38 Degrees members got together quickly and worked out what to do. Within 24 hours over 192,000 people had taken our snap survey and collectively we decided to have two major focuses for the election:
1. make sure as many people as possible have a chance to vote, and;
2. make sure all newly elected MPs know that there are thousands of 38 Degrees members in their constituency that they need to listen to.
Here's what we did together:
---
Priority 1: Making sure as many people as possible have a chance to vote

1) 4 million people saw our register to vote adverts

The big story of this election was the record number of young people that registered to vote and got involved in the election. 38 Degrees members helped to fund internet adverts targeted at young people – especially students and renters who still needed to register to vote. In total, 4 million young people saw our adverts and thousands of them were added to the electoral register. A huge win for democracy!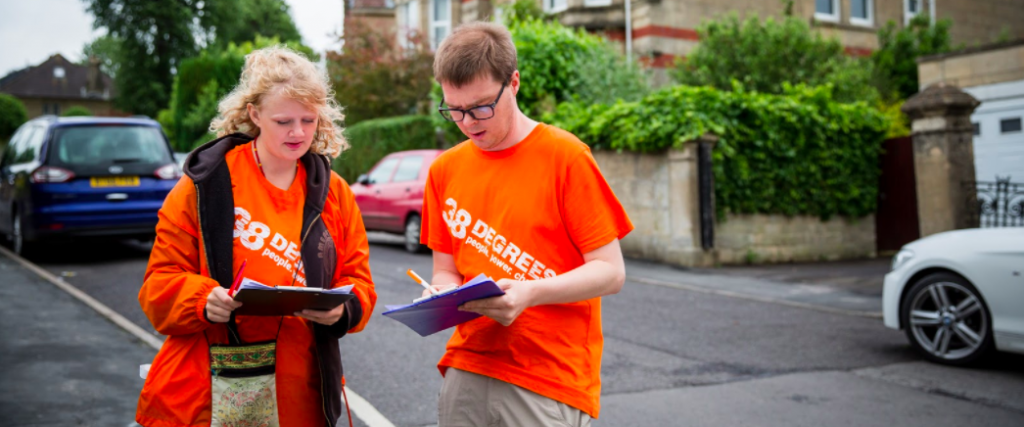 2) 24,071 conversations in key target areas

In Bath and Hove, 38 Degrees members rolled out one of the largest on the ground, get out the vote efforts the UK has ever seen. 38 Degrees-ers knocked on over 40,000 doors and had over 24,000 conversations with people reminding them of how powerful and important their vote is.
Bath and Hove were flooded with 38 Degrees members in the weeks leading up to the election, with pop-up offices in both locations to coordinate hundreds of volunteers who were having tens of thousands of conversations with potential voters – on doorsteps and on the phone.
You can read more about the impressive efforts of hundreds of 38 Degrees volunteers here.
3) 650 constituencies covered on the 38 Degrees election website
The 38 Degrees election website made it possible for anyone to look up what was going on in their local constituencies leading up to election day. It meant everyone was able to find out all the info on the candidates vying for our votes locally, as well as the results from previous elections. You can take a look at the website here: election.38degrees.org.uk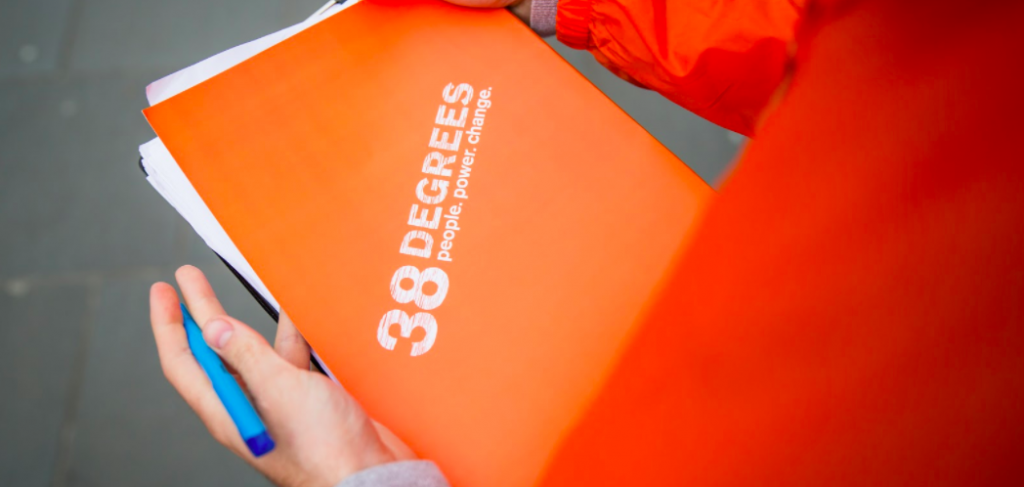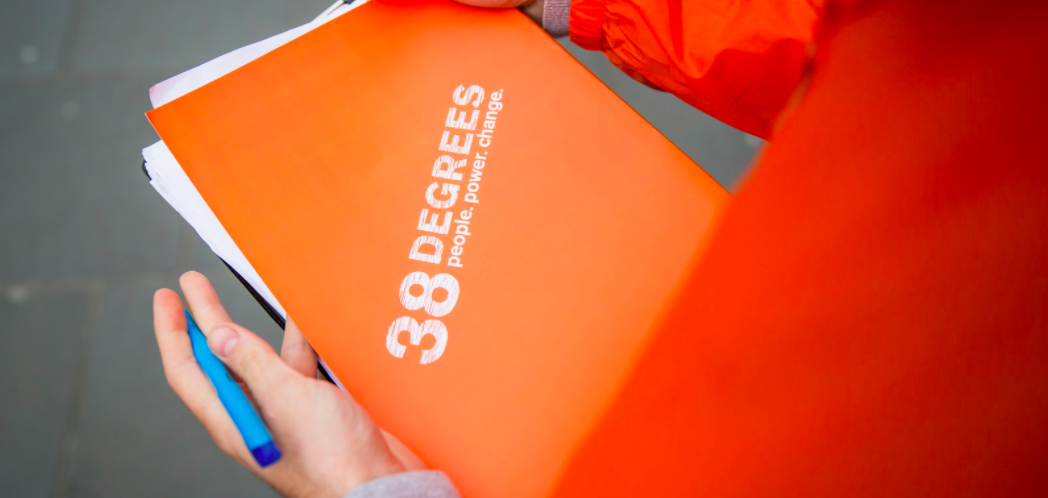 4) Advice on the day of the election
On the morning of the election, emails, texts and WhatsApp messages were sent to millions of people, giving them all the information they needed to vote that day.
5) 1 million people took our voter quiz

38 Degrees members chipped in for a 'vote quiz' website which helped over a million people work out which political parties best matched their views. With 12 quick questions on 38 Degrees members top issues, it matched answers against party manifestos to help people make the choice that was right for them at the ballot box. You can read more about how the quiz was set up here.
In the week before the election, 1,098,127 people took the quiz!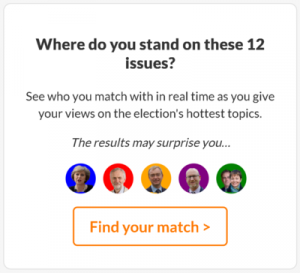 ---
Priority 2: Make sure newly elected MPs know that there are thousands of 38 Degrees members in their constituency that they need to listen to.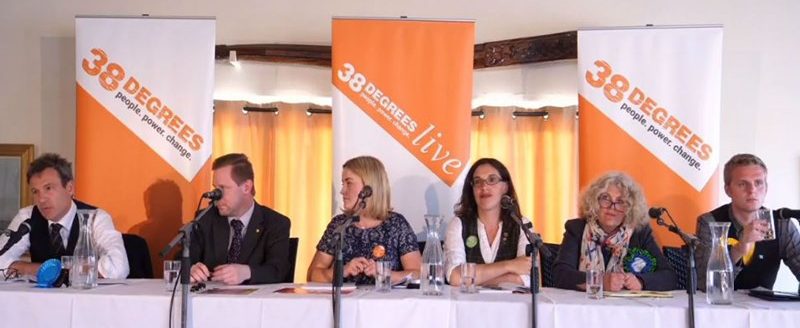 6) 13 quiz the candidates events

38 Degrees members helped organise 13 'quiz the candidates' events in key marginal constituencies with local candidates running for MP. The 'hustings'saw would-be MPs answer live from local voters on a huge range of issues. Over 1,000 local residents attended the events and more than 16,000 tuned in on Facebook to watch them live from home.

Find out more about the hustings events here.
7) Equipped MPs with key information
38 Degrees members voted to make sure that every new MP know about us, the issues we care about and the power our members in their local area have to create change. By making sure that new MPs knew about us before they even made it to Westminster, we've made sure that now they're elected they can expect us to hold them to account.
In the constituencies where the race to be the next MP was really close, we contacted 262 candidates with briefings stacked full of info about the campaigns 38 members care about.
---
It's been a huge couple weeks, but none of this would have been possible without the backing of millions of passionate 38 Degrees members. So thanks so much to everyone that chipped in, volunteered, doorknocked, made phone calls, started petitions and took action to make this a truly people-powered election. 38 Degrees members know that democracy is always better the more of us that get involved! Watch the video for even more: